"My aunt wrote to me last autumn and said she wanted to give my novel to her friends for Christmas," said Paige Erickson, a 2000 Hastings College graduate. "When I admitted that it wouldn't be ready in time, she said I had better come up with something else."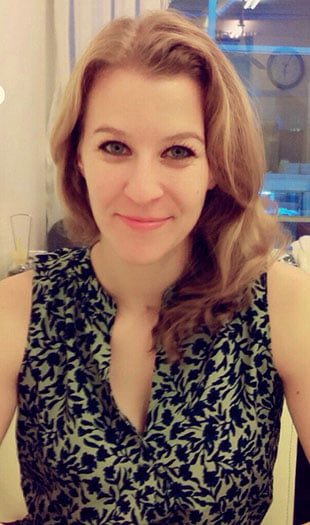 For someone who has always been interested in reading and writing, Erickson hopes to change the perspective of readers with her now recently released book. Titled "The Nice Thing About Strangers," it was released December 2015. Her book comprises of about 150 short, creative non-fiction stories that come from her blog.
Encouraged to write
"It was only when I got to Hastings College that I was encouraged to share my writing," said Erickson. "Dr. Darrel Lloyd helped me to embrace my love of literature, Dr. David Lovekin taught me to challenge myself and find connections between ideas and Dr. Rich Lloyd pushed me to experiment with different genres and share my work."
While a student at Hastings, Erickson had several of her plays produced on campus. These included a one-act play titled "Whatever," and a full-length play called "Half Empty," which featured monologues performed by students from Hastings College, the University of Nebraska-Lincoln and Kansas State University.
With a degree in English and philosophy, Erickson went on to attend Kansas State University in 2002, where she earned her master's in speech communication and theatre. She also earned a master's in philosophy from the University of Colorado at Boulder in 2004.
"I was fortunate that my professors at Hastings always said art and ideas can speak to each other, so I found it perfectly natural to pursue different fields and draw them together," she said.
In 2005, Erickson returned to the Hastings campus to teach courses in philosophy and communications for four years. In 2008, she decided to leave Hastings and travel to places like Turkey, Austria and other locations in Europe, which is where the stories in her book take place.
"I did my roaming alone, and found that people who asked about my trips often wanted to hear if I'd had any negative experiences—if I was afraid, if I'd been mugged," said Erickson. "However, I didn't have bad news to share. I found strangers were incredibly kind to me. Over time I'd even stopped noticing problems or feeling anxious in travel, and I started to look for the silver lining even when delayed, lost or frustrated."
Starting a blog
While traveling, Erickson took notes of her surroundings. She started her blog as a way to keep deadlines, finish small writing projects and to share the positive parts of her journey. Then she realized that a lot of scenes she wrote about could make useful stories.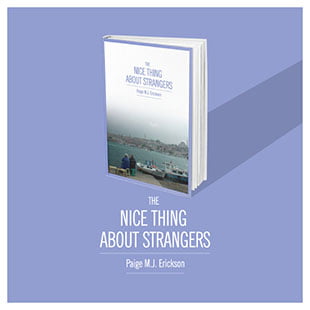 At times, Erickson struggled with the idea of vulnerability and putting her ideas in book form. Writers like Steven Pressfield and Seth Godin helped ease her fears by recommending that authors, artists, entrepreneurs, etc. act despite their fears. According to these authors, those fears mean change and discovering more about one's capacities and abilities.
"I've learned that there is a deep hunger for good news in our world today," Erickson said. "People have contacted me to say the stories helped them to see the world with more patience or compassion. This delights me because my favorite books have done the same thing to my perspective. I've learned so much about myself from the books I've read, and from my opportunities for travel, so I am happy if readers can be part of that journey."
"The Nice Thing About Strangers" is available through Amazon in paperback or Kindle editions.
Erickson even paid homage to her college town, writing a story in her book titled "I'm Thinking Lovely," set at the Hastings exit from I-80.
By Amanda Miller, a senior from Woodland Park, Colorado majoring in journalism