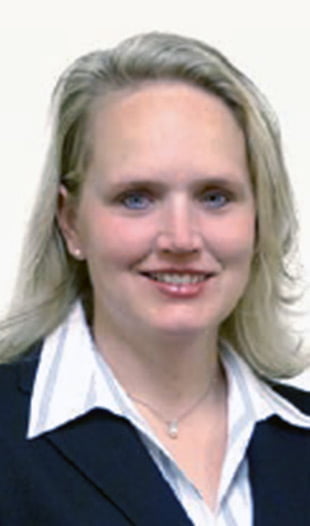 When a friend in Altman Hall found herself frustrated by her accounting homework, then-Hastings College first-year student Dana (Pote) Foote '96 remembers leafing through the numeral-rich textbook and feeling a click.
"Looking at her book, I just got it," Dana recalled. "I had never taken an accounting class myself, but I was able to help explain the problems to her."
That feeling of a calling was one that the Sterling, Colo., native hadn't felt in her own classes as a music major. Dana was involved in several music ensembles, as well as voice lessons, in her first year at HC.
It turned out, however, that Dana had a pitch-perfect mind for numbers.
"I remember thinking, 'I should give that a try,' " Dana said. "So the second semester of my freshman year I signed up for an accounting class and loved it."
Dana has carved a career from the raw materials of passion, ambition and a calling that she first discovered in her time at HC. The mom, wife and well-traveled professional is now a senior partner at KPMG LLP, a global audit, tax and advisory firm and is based in Kansas City, Mo.
She credits the guidance and instruction of great Hastings College minds, such as  long-time business professor Roger Doerr and President Emeritus Phil Dudley for  her calling-turned-vocation in the accounting field.
As graduation from Hastings College approached, Dana landed an offer at the Coopers and Lybrand accounting firm in Omaha, Neb., then considered one of the country's "big six" accounting firms, and from day one envisioned herself as a partner in the growing company. She proved her intelligence and work ethic at Coopers and Lybrand and stayed with the company through the firm's merger with Price Waterhouse in 1998 and then the purchase of the Nebraska operations by KPMG several years later.
Dana would move around the country four times with the conglomerate firm – from Omaha to San Diego, Calif., then back to Nebraska, to New York City, and finally to her current home in the greater Kansas City area.
In 2007, while she and her husband Donovan Foote '95 were based in Omaha, Dana was offered the position of partner with KPMG and found her dream fulfilled. She now manages clients such as healthcare software giant Cerner Corporation and construction and engineering leader Black and Veatch, utilizing the same toolbox that compelled her to dual degrees in business administration and music at HC.
Dana's position is unique. Only three of KPMG's 22 partners in Kansas City are female, and only 18 percent of the partners nationwide are female.
"This is the exciting stuff that I love," Dana said. "I was always really motivated and involved, and that drive has paid huge dividends for me – both personally and professionally."
Dana has also been known to embrace life's curve balls on a personal level. In 1998, just a few years into her accounting career, she was diagnosed with multiple sclerosis (MS).
By Laura Bernero '13