In the time it takes most people to read this sentence, Jon Flight can run 60 meters, clear five hurdles and reset long-held Hastings College school records. In fact, the first-year Hastings College student has done just that — four times in a single season.
Flight set the pace for his collegiate track career on Dec. 9, 2017, when he shaved a tenth of a second off of the Hastings College school record for the 60-meter hurdles with his run of 8.18 seconds; the record had stood since 2009. A month later he reset the record with a time of 8.11 — and two weeks after that he finished in 8 seconds flat.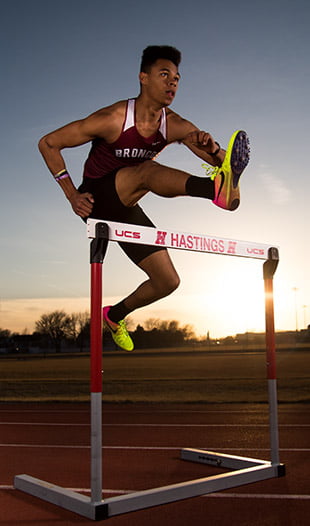 Despite this incredible success, Flight didn't originally consider track and field. Growing up, his sights were set on football — until an unexpected health concern changed his focus.
"In sixth grade I had a grand mal seizure, and so we went to the hospital the next day and we found out that I have epilepsy seizure disorder. It was kind of out of control. I would have like 20–30 seizures per day," Flight said.
His doctors forbade him from playing contact sports, and although his condition improved with medication, his future in football ended. Seeking a way to fill the gap, Flight turned to track and field.
"I had never thought about running track. The only time I ever touched that track was running across it to go onto the (football) field," Flight said.
He continued to be tentative about track until he began running for Wahoo High School, winning two varsity meets as a freshman. The accomplishments solidified his decision to pursue hurdling, and he continued to make impressive strides from there.
Flight finished high school with an undefeated season in the 110-meter hurdles. Hastings College coaches recognized his immense potential for growth and recruited the Ithaca, Nebraska, native to run with the Broncos.
"Obviously Jon is a very talented hurdler, so his recruitment was a no brainer," said Luke Mahoney, hurdles and sprints coach. "You add that to his passion for the sport, and specifically his skill set of hurdling, and you know you'll have a successful college athlete."
Flight's first indoor meet as a Bronco earned him an automatic qualification to the National Association of Intercollegiate Athletics (NAIA) Men's Indoor Track and Field National Championship. At the national meet in March, he set the record for the 60-meter hurdles yet again.
The record now stands at 7.96 seconds — a run fast enough to earn Flight the second place title in the NAIA.
"If I wouldn't have made it here for epilepsy, I wouldn't have made it here (at all). It's kind of like, 'Oh, that's a bad thing,' but then again it's good thing," Flight said.
Now, as he prepares to start his first collegiate outdoor track season, Flight has only one thing on his mind.
"Records: That's all I go for. Records this, records that," Flight said. "And that's mainly how all my records are getting beat. All I had in my head when I was running was the record."
His sights are set on running 14.10 in the 110-meter hurdles and 52.00 in the 400-meter hurdles. If he meets his goal, he'll dethrone the school records set for these events in 1999 and 1981, respectively.
"There was never a doubt that Jon had all the potential to be an All-American as a freshman, but you never want to get too far ahead of things when coaching," Mahoney said. "The scary thing is, he'll be even better in the outdoor season."
By Mallory Gruben, a senior from Eckley, Colorado, majoring in journalism
*Reproduced in part from a story first published in the Hastings College Collegian student newspaper.