Helene Flaxbeard, a 2013 Hastings College graduate, is a member of the Red Cross's Campus Leadership, Education and Development (LEAD) program — a rotational program designed to recruit and develop recent graduate students for leadership positions within the Red Cross. While at Hastings College, involvement with a campus organization, faculty mentors and studying communications inspired Flaxbeard's love for non-profit work.
Following graduation from Hastings College, Flaxbeard attended the Lilly Family School of Philanthropy at Indiana University-Purdue University Indianapolis (IUPUI) and earned her M.A. in Philanthropic Studies. During this time she had a graduate assistantship with the Red Cross of Indiana. That led to a job opportunity with the Red Cross in 2016, so when the organization offered her the opportunity to be one of the four people to join the Campus LEAD program, and she jumped at the opportunity.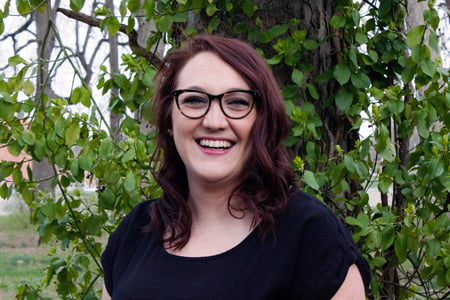 Flaxbeard majored in communication studies at Hastings College and was a member of the Peer HIV Education Organization (PHIVE-O), which guided her to a love for non-profit work. PHIVE-O taught her project management, organization and how to read her audience, which are all skills she uses today in her role with the Red Cross.
"PHIVE-O gave me the chance to get out of my box and speak to my peers about an important topic in a way they found interesting," she said.
Roger Doerr, now a member of the Hastings College Board of Trustees, also shaped Flaxbeard's experience because he helped guide her graduate school decision, which ultimately led to her involvement with the Red Cross.
"He could tell I had a passion for non-profit work, and helped me pursue it," she said.
During her graduate studies, Dr. Kittie Grace, professor of Communication Studies and director of forensics supported Flaxbeard on her thesis committee.
"Dr. Grace knew me from my undergrad and could provide support not only around academics but also on a personal level," she said.
In the Campus LEAD Red Cross program, four people rotate through different parts of the organization for up to 14 months at a time over three years. Flaxbeard's first rotation was at national headquarters in Washington, D.C., where she worked in major gift fundraising.
Flaxbeard and her team planned and orchestrated the fundraising efforts for a first-time nationwide event called Sound the Alarm, which resulted in Red Cross volunteers installing 100,000 fire alarms over three weeks. She spent more than a year in D.C. and planned to leave right after the event's launch, but Hurricane Harvey hit and she deployed to Texas.
In Texas, she spent time talking with people in shelters and relaying their stories for use in Red Cross communications.
"It was an extraordinary and privileged job to learn about these people and to tell their stories," she said.
Flaxbeard's second rotation was in human resources alongside the collections unit, which is responsible for collecting more than 40% of the nation's blood. Her job focused on how to retrain employees and help them remain happy and fulfilled in their careers.
Flaxbeard's final rotation began in November 2018 with volunteer services for Red Cross Headquarters, and she still works in that position today. Flaxbeard is working to enhance the Red Cross volunteer engagement strategy.
Flaxbeard said Hastings College helped shape her career tremendously. Through the communications studies faculty, she learned to think about what people need when communicating.
"Interpersonal communication helped me when changing jobs every 12 months because I knew how to relate to people," she said.
By Courtney Hanson, a sophomore from Brookings, South Dakota, majoring in communication studies and philosophy