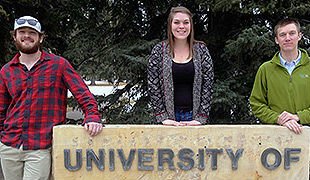 Hiking opportunities near Laramie, Wyoming, provide three outdoorsy Hastings College alumni with much-needed breaks from their graduate studies in chemistry at the University of Wyoming.
"It's unusual to have three students from a small department at a small school in the same graduate program," said Dr. Neil Heckman, Chair of the Hastings College's Chemistry Department. "I did not anticipate my initial contact with Dr. Leonard would yield this return."
The trail from Morrison-Reeves Science Center to Wyoming began several years ago when Nebraska-native Dr. Brian Leonard spoke to Hastings chemistry students about the university's graduate chemistry programs.
Rudy Mignon (right) '12 from Hickman, Nebraska, was among the students at the event and, after continuing communication with the university, became the first Hastings student to enroll in Wyoming's chemistry program.
Today, he's using mass spectrometry to differentiate harmful bacteria.
"This work speeds up the process compared to traditional methods of identification," Mignon said. "I chose this area because it was practical and would directly influence medical treatment and care."
After completing his program, Mignon would like to explore similar projects in an analytical research lab.             
Travis Morrow '14 also chose his area of study – exploring methane activation via rhodium and iridium complexes – based on its applicability to real world issues. However, he ultimately would like to teach. Indeed, his favorite part of his graduate experience at Wyoming has been serving as a teaching assistant for a general chemistry professor.
"A lot of doors can open and close before I graduate, but as of now I hope to find a job in academia," said the Hastings, Nebraska-native.
For Shelby Follett '13, attending Wyoming allows her to be closer to her hometown – Parker, Colorado – and to explore her interests in the computational and biological aspects of chemistry.
She said, "I have seen so much of how all the different divisions of chemistry relate and have a more in-depth understanding of the field as a whole. Research has also been eye opening, and I enjoy the hands on aspect."
Follett, who already has two research publications to her name, remains uncertain about what field of chemistry she will pursue after graduate school.
"I am more interested in going into industry than academics, and that is about as much as I have decided," she said.
For Heckman, watching these alumni explore chemistry beyond Hastings College is rewarding.
"In recent years, Hastings College chemistry majors have demonstrated a greater interest in exploring graduate research programs," he said. "To see our program moving in this direction is exciting, and Rudy, Shelby and Travis are great examples of people making the most of their opportunities."