Kyle Weber, a 2017 Hastings College graduate, was promoted earlier this year to senior ranger at Chatfield State Park in Littleton, Colorado. Weber has been working for Colorado Parks and Wildlife full time since 2018, but got his start with the organization through working seasonal jobs during the summers of his college years.
As Weber moved up the ranks, his job duties changed drastically, moving from a seasonal employee in charge of trail maintenance to a seasonal park ranger enforcing park regulations and, now, a senior ranger with full police certification and the responsibility of overseeing all permanent rangers at Chatfield State Park. Chatfield is one of the most popular state parks in Colorado, averaging about 1.6 million visitors annually.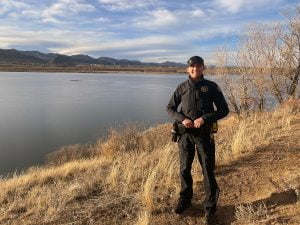 Through each position change, Weber has learned to adapt to his new role, particularly in most recent position.
"Being a senior ranger is definitely a big change, people come to me for basically everything. You are considered to be the expert on everything in the park, so I get a variety of different questions from staff members. This first year has definitely been a learning experience," Weber said.
Despite its challenges, Weber said he enjoys the diversity of his job description.
"Everyday is different. We get a lot of calls for service — whether it's assisting law enforcement agencies on large scale incidents, search and rescues, capsized vessels, drownings, grass fires, there's a wide variety of things to deal with."
While at Hastings College, Weber pursued a degree in wildlife biology and found a home within the community of the Biology Department.
"I really enjoyed the Biology Department at Hastings. The professors held us to a super high standard, always had fun activities for us and offered lots of opportunities for field work. I also loved the small class sizes, I was able to have more meaningful relationships with my professors and classmates which really helped my learning."
Weber didn't declare wildlife biology as his major until his sophomore year, a decision he made after being promoted by his advisor to return to what he had loved since his childhood — outdoor recreation.
"At a young age I was fortunate enough to be exposed to the outdoor setting. My parents introduced me to that and taught me the right way to recreate in the outdoors. Hiking, fishing, camping, I have loved it all from a very young age," he said.
His job as a park ranger allows Weber to pursue his passion for the outdoors, as well as what ultimately draws him to this profession: the opportunity to share his passion with others.
"We have so many beautiful places in Colorado that I just feel drawn to. I want to protect that resource and give people a safe place to come enjoy its beauty," he said. "Anyone should be able to come out and recreate in a safe environment, and our whole job is centered around providing that."
Colorado Park and Wildlife offers several internship opportunities that college students looking toward a career in national resources may be interested in. Weber encourages students who are interested to reach out to the agency and explore the wide variety of career and internship opportunities.
By Landry Hinkson, a junior communication major from Bazaar, Kansas.