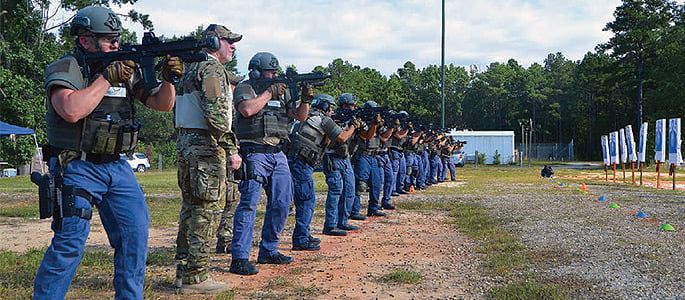 In dry, mountainous terrain in the middle of New Mexico, a single helicopter descends from the blue and hovers just above ground, sending a cloud of dust skyward.
A handful of black-clad federal agents clutching rifles leap from the chopper and stealthily make their way toward their target. Their mission: serve a federal search warrant on a home packed with explosives.
Hastings College alumnus Michael Schmitz '85 is among the fierce-looking bunch. For this former football player turned teacher turned federal agent, it's just another day on the job.
Granted, it was an exciting day.
"I've done some pretty cool stuff," said Mike, recalling the New Mexico helicopter drop and other movie-esque moments in his 25-year career with the Bureau of Alcohol, Tobacco, Firearms and Explosives.
Mike has held many positions at ATF, beginning as an agent and now serving as firearms instructor coordinator across a four-state area. He trains and tests both new and existing agents and task force officers on weaponry to keep their certifications current. He also spends time in action as a member of the regional SWAT team based out of Detroit, Mich. – a chance to get back in the heat of things.
Though Mike always had an interest in criminal justice – as a child in Grand Island, Neb., he looked up to his state trooper neighbor – HC only offered one criminology class in the early '80s. The four year football player opted instead for an edu­cation degree, hoping to teach and coach.
After a few years teaching, he landed at the University of Kansas to continue his football coaching career. It was there that he met two federal agents who would change the course of his career and his life. The agents – one who worked for the FBI and the other for the Secret Service – were regulars at the KU weight room where Mike spent much of his day. Over time, the two convinced Mike to apply for a job as a federal agent.
A few more serendipitous events led him to apply with ATF, and within weeks of taking the entrance exam, the teacher and coach was part of the bureau.
"With ATF, they were about diversity," he said, explaining that while some agents had military or law enforcement backgrounds, others had been journalists, attorneys or other professionals. "They wanted people from all walks of life. If you saw these people, you would never expect them to be federal agents."
Mike has investigated everything from drug trafficking and firearms offenses to explosive and arson cases. He spent three weeks in Waco, Texas, during the 1993 siege, and worked in Oklahoma City, Okla., after the 1995 bombings. He hunted for Olympic Park Bomber Eric Rudolph in the moun­tains of North Carolina and helped with search and rescue efforts after Hurricane Katrina in 2005.
The highlight of his career was a homicide investigation he and a team worked in Missouri in the '90s. Christine Elkins was a drug user turned ATF informant who went missing in 1990 and was presumed to have been killed by her dealer. Mike and his partner worked the case tirelessly for seven years, until Elkins' body was found in the trunk of a car in the Missouri River in 1997.
"We convicted two heinous bad guys for it," he said. "One got 27 years, the other life in prison. That case took a lot out of me at that time."
The high-profile Kansas City, Mo., case generated a lot of publicity and was the subject of television shows, a book and a feature in Reader's Digest.
Any success he has had, he said, he attributes to his Hastings College education.
"I am always pushing people to look at Hastings College," said Mike, whose daughter, Abby Schmitz, is a sophomore broadcast journalism major at HC. "I truly think it's a great school. You get the total experience at Hastings College."
He and his wife, Patty (Cox) Schmitz '86, a second-grade teacher, live in Overland Park, Kan. They also have a son.
By Amy (McGraw) Palser '99