Every October, students from Hastings College conduct research in Ireland throughout the month as part of a program called Irish Fellows.
This program began in 2007 with then Hastings College Dean and Irish literature specialist, Dr. Richard Lloyd. Lloyd had formed a relationship with Grammy-winning musician Davy Spillane, who had performed at Hastings College, and Spillane agreed to be available to the Fellows throughout the month as a resource when needed.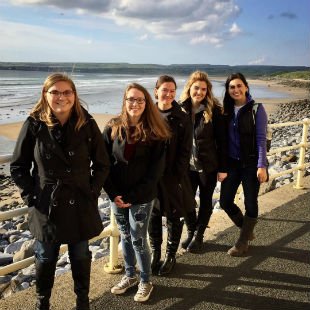 Lloyd enlisted the help of history professor Dr. Rob Babcock, who ultimately took over the program when Lloyd became president of another university.
"As director, I oversee all of the information sessions for faculty and students, I advise (and revise) student applications, I chair the committee that accepts the finalists and I teach the Irish history course that puts all of the Fellows in the same room before they leave," Babcock said. "I also make the flight arrangements, work with Davy Spillane about securing housing and make arrangements for the three days in Dublin that the Fellows receive."
In addition, Babcock travels to Ireland with the students to get them acquainted to life in the country. He stays for a couple days then flies back to the United States where he remains available to the students via email.
This year, Kirsten Gilliland, an education major from Ainsworth, Nebraska; Kelly Kruse, a broadcasting major from Colorado Springs, Colorado; Hannah Morine, a business administration major from Blair, Nebraska; Emilie Barnes, an English major from Omaha, Nebraska; and Dakota Ghegan, a music major from Omaha, Nebraska, were chosen for the program. They left for Ireland on the morning of October 5 and flew from Omaha, Nebraska, to Newark, New Jersey, and on to Shannon, Ireland. The two flights totaled about nine hours, and the students arrived in Ireland Thursday morning.
Acceptance into the Irish Fellows Program is competitive. Students applying propose a research project to explore in Ireland matching their interests and work with a faculty sponsor of their choosing to prepare for and complete their projects.
My project involved two weeks shadowing at the "Clare Champion." I worked for my local newspaper this summer, so my research will compare the two print journalism worlds.
For Kruse's project, she conducted research to learn how news is consumed in Ireland. She also captured video and conducted interviews to create news stories to air on Hastings College's news program, Bronco News Now and is in the process of creating a promotional video for the Irish Fellows Program.
Morine's project analyzes "the different tourist attractions around Ireland, each site's impact on the economy and how tourism as a whole industry plays a role in the economy of Ireland."
Barnes' project involved two weeks of job-shadowing under Jessie Lendennie at Salmon Poetry in Ennistymon.
Unlike the others, Ghegan conducted two separate projects: one for Irish Fellows and a second for an independent research course. As a Fellow, she studied the history of the Irish flute and whistle and researched the history of Irish music, specifically the harp, fiddle and uilleann pipes independently.
Participation in the Irish Fellows Program is dependent on professors giving permission for those selected to miss class in October. However, Fellows still complete that month's coursework, often submitting assignments online to meet deadlines back home (which is six hours earlier). Students also take every opportunity to experience Ireland from a tourist perspective, visiting popular tourist destinations across the country.
"My experience in Ireland has been simply amazing. From the atmosphere, the people, the surfing, the big cities and small towns, I couldn't have picked a better place to study abroad. There simply isn't an aspect of Irish culture I don't like," Morine said.
Babcock was skeptical of the program initially, "especially negotiating the month's absence from the classroom," but over the years has seen its benefit for both his students and himself.
"They have learned so much. About Ireland, of course, and about their discipline, but also about themselves, having to live on their own and make responsible decisions in a foreign country for a month. And they return to the States with original, professional work-product," Babcock said. "I have had an extremely rewarding time introducing students from a variety of disciplines to Ireland and to Clare. I have also gotten to know North Clare on a level that I never would have been able to had I not agreed to oversee this program, and I am deeply grateful for the opportunity."
Babcock has study abroad experience himself. As a student, he spent a semester at Trinity College in Carmarthen, Wales and he urges his students to pursue similar experiences.
This year's Irish Fellows did just that. Barnes looks at study abroad programs as an opportunity to not only learn about your own culture through the eyes of another, but to use that experience as a way to change the world.
"I think the Irish Fellows program is an incredible opportunity that I wish could be afforded to more students," Barnes said. "At first turning every outlet on and off was an annoyance, but after adjusting to the change, we've now come to realize just how wasteful the U.S. is with its natural resources. …Think of all the changes that could come to the U.S. if we had more students studying abroad to return home inspired to make it a better place."
After returning to Nebraska, the Fellows began writing up their research with assistance from their sponsors and will present their findings at Academic Showcase day April 25, 2017.
Although this year's Irish Fellows experience is officially over, Ireland, and particularly County Clare, will hold a special place in their hearts and their memories for years to come.
"My experience here has been so much more than I could have ever anticipated. I have learned so much about my project and about Irish history in general, but I have also had the opportunity to experience Ireland in a way that I never would have otherwise," Ghegan said. "Our motto for this trip is "work hard, play hard" and that certainly sums up my experience."
By Kirsten Gilliand, a sophomore from Ainsworth, Nebraska, majoring in education.