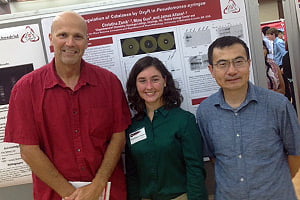 Many people spend their summers picking tomatoes and green beans from vegetable gardens. Christina Zarek, a junior from Grand Island, Nebraska, spent the summer of 2014 studying them in a laboratory as part of a Research Experience for Undergraduates (REUs).
"I worked in a microbiology lab that studies Pseudomonas syringae, a plant pathogen that infects tomatoes, soybeans and green beans," said the biochemistry major whose career goals include working in research followed by teaching at a small liberal arts college. Her REU took place at the University of Nebraska-Lincoln.
As she explored how P. syringae responds to hydrogen peroxide, she learned several new techniques, including how to implement a Western blot protocol that detects key proteins in samples and to separate proteins using a sodium dodecyl (lauryl) sulfate-polyacrylamide gel electrophoresis (SDS-PAGE).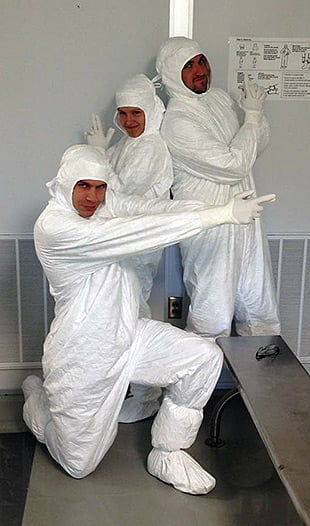 A few hours south, in Lawrence, Kansas, Zarek's Hastings College classmate Paige Skillett (middle right) from Lincoln, Nebraska, was helping to detect peroxynitrite, a powerful oxidant which can wreak havoc on cell function.
Among her adventures in the University of Kansas labs was working in a "clean room." Skillett described working in the room cleared of contaminants as "probably one of the coolest things I got to do."
"We had to put on white jump suits with hoods and gloves," said the chemistry major. "It looked like I worked with a lot more dangerous stuff then I really did."
Working in an analytical lab with only one upper level chemistry course on her transcript at that point pushed Skillett to grow.
"Luckily, I had an amazing graduate student who helped me through all of the new things I was learning," she said.
In fact, she described her REU as a great way to experience what graduate school will be like.
For now, Skillett is uncertain of her plans after graduating from Hastings College, although she is interested in water and soil contamination and would like to focus on environmental chemistry.
"What I love about chemistry is the problem solving. I like being presented with a problem and going through the steps to figure out the best way, or anyway to complete it," Skillett said. "It is a really good feeling to complete a really hard problem. I also really like how applicable chemistry is. Everything we use and even the earth we live on is made up of different compounds and it's a really beautiful thing."