When Dr. David B. McCarthy, professor of religion, recommended to his student, Logan Ellis, that he apply for the Presbyterian Church (U.S.A.)'s Samuel Robinson Award—one requirement of which is to memorize and recite the Westminster Shorter Catechism in the PC(USA)'s Book of Confessions—the college senior was game. 
"It was J-Term," said Ellis, referring to the opportunity that Hastings students have to spend the month of January studying one course in depth or pursuing an internship. "I figured I had enough spare time, so I decided to give it a try." 
In addition to having the time, Ellis also had an edge. Not only does the religion major have a high school theater background, but he is also a musician. 
"Memorizing comes pretty quick to me," he said, "although it's different when you're memorizing theological statements."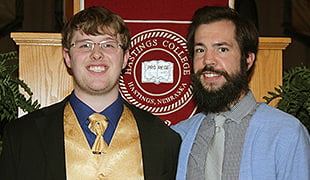 The Samuel Robinson Award—of which Ellis is the sole recipient for 2016—is open to PC(USA) students completing their junior or senior year of college at a Presbyterian-related college or university. It was created from a gift made in 1956 naming the General Assembly, Princeton Theological Seminary, McCormick Theological Seminary, and San Francisco Theological Seminary to promote the memorization of the Westminster Shorter Catechism. The General Assembly's portion of the fund is overseen by the office of Financial Aid for Service of the Presbyterian Mission Agency.
Ellis's approach to memorizing the 17th-century catechism's 107 question-and-answer pairs was to take on 10 pairs a day during the J-Term's weekdays. 
"It was a really good experience," said Ellis. "I would call it beautifully frustrating. I think the most important thing I learned was just how much one word can almost shift theologies, and how a single word—even if it's not a noun—can change the meaning of an entire sentence to bring a whole new understanding." 
In addition to memorizing and reciting the catechism, Ellis was also required to write a 2,000-word original essay on an assigned topic as a condition for the award. He ultimately selected question-and-answer pair 60, "which asks the simple question of how the Sabbath is to be sanctified," as the focus for his essay.
"Through my memorization process, whenever I would hit that pair—and our chaplain [Rev. Damen Heitmann] and I would talk about it—it always caught my eye," Ellis says. "The more I looked at it, the more looked-over it seemed to be and the more relevant I thought it was in modern society." 
Ellis, a native of Beaver City, Nebraska, and a member of First Presbyterian Church there, is currently enrolled to attend the University of Dubuque Theological Seminary in the fall. 
"I'm excited in seminary to be able to delve deeper into the texts and the hard questions," he said. "I also really want time to explore what my call would look like. I've always felt like I was called to rural ministry, although lately God has placed on my heart a call to campus ministry as a chaplain or maybe a professor. What's nice about the seminary is that it's right across the street from the University of Dubuque and there's lots of interaction between the two, which would help me see what that call would look like."
Laura Bryan, associate for Financial Aid for the Presbyterian Mission Agency, said that another unusual aspect of the Samuel Robinson Award is that its use is not in any way restricted to a student's educational expenses. "The use of the award is at the sole discretion of the awardee," said Bryan. "Samuel Robinson Awards have been used to fund mission trips, reduce educational debt, and for graduating students moving to accept a job or to enter a graduate program."
Of having received the $5,000 award, Ellis said  it "still seems surreal."
"Just having the opportunity, I feel amazingly blessed," he said. "It's hard to imagine having $5,000. I can't even explain how appreciative I am, especially going into seminary. That just helps a lot." 
By Emily Enders Odom, courtesy of the Presbyterian News Service