Although Erik Kling '99 was uncertain at first how to apply his art degree to the working world, he discovered a viable path through the unique experiences his undergraduate and post-graduate life provided him. Kling now works as an Animation Supervisor for Warner Brothers Animation Studios, a job that provides him a great outlet for artistic expression.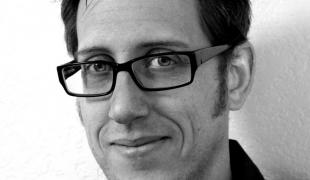 At Hastings College, he didn't know which of his interests he wanted to continue with after graduation, as he enjoyed several, most notably art, music and theatre. He studied Studio Art, largely focusing on painting, printmaking and drawing, and Art History. In addition, Erik played in the jazz band, was involved in a few theatrical productions and was a member of Phi Mu Alpha Sinfonia, the music fraternity. He appreciated the opportunities Hastings gave him to pursue all these interests simultaneously, especially since he didn't know what he wanted to do then.
"The future wasn't clear to me at the time I was in school. The ability to study so many different subjects and really get a well-rounded education is incredibly helpful; it's funny how things you didn't think you'd ever use come into play," Erik said.
While at Hastings, he also drew a comic for the Collegian, the student-run newspaper, all four years.
"It really helped me experiment with sequential images and storytelling."
These skills would later prove invaluable to his career as an animator, though he didn't know that at the time. Then, he was merely doing something he enjoyed.
After graduating, Erik moved to Lawrence, Kans. and worked various temp jobs. He played in Transforming Apollo, a rock band started while he was still in school. It performed in the Midwest for five years before disbanding. Though the band served as an artistic outlet for Erik, it eventually proved far more useful in that it awakened an interest in his future career.
"Technology was getting more accessible at that time, and while recording our second album, I got into doing some computer animation hoping to make a music video," he said. "Though the video I eventually created was crude, I saw a glimpse into my future and realized this was a way I could make the stories in my head come to life."
This discovery impelled Erik to attend graduate school at the Academy of Art University in San Francisco to learn computer animation, a leap he's glad he took.
After grad school, Erik moved from freelancing to working for Nickelodeon, Lucasfilm and Warner Brothers. He has worked on shows including "The Penguins of Madagascar," "Kung Fu Panda: Legends of Awesomeness," "Fanboy and Chum Chum" and "Star Wars: Detours." Currently he is working on some specials for Lego with Warner Brothers.
Without his experiences at Hastings College, Erik would not have had the opportunity to sharpen the skills he uses on his job.
"It gave me the tools to pursue what I wanted, even though the future wasn't clear to me at the time," he said. "At Hastings I was able to focus on my art studies and really improve my skills, being allowed to experiment with comics and animation. It all added up to a rich foundation I use to this day."
Erik is pleased with the experiences that have led him to this point and thrilled to see what comes next.
"It's been a great ride and I'm excited to see what the future holds." 
Written by Liz Case '14