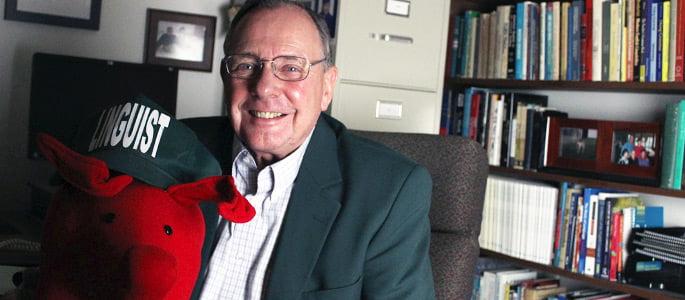 From the fall/winter edition of HC Today.
You can define a man by his words – and that can mean not only by what he says, but what he reads.
Dwayne Strasheim has no dearth of books to define his character. His office alone has an entire wall devoted to books and the eye immediately detects a theme. English Syntax, The Lexicography of English and Lost for Words are but three titles his bookshelves bear. The items in his office follow a similar pattern. A Merriam-Webster daily calendar (today's word is oppugn) sits on his desk. A stuffed aardvark wearing a green hat that says LINGUIST sits on the filing cabinet.
English and linguistics seem to reside in the very DNA of this man, but this was not evident to him from the start. Dwayne graduated from Wayne State College with a German major and history minor and taught these subjects at Hastings High in 1962. The next year, he studied at the University of Washington on assistantships. "I really loved high school teaching, but a year out of college and I was ready to get back," he said.
Dwayne graduated with a master's degree in linguistics in 1965 and decided that he wanted to move back to Hastings. "I thought Hastings was a wonderful place to live," he said, "so I sent a letter to the president of Hastings College, Ted Maxson, asking for a position."
After an interview conducted over dinner, Dwayne found himself the newest member of the Hastings College faculty and began teaching in the fall of 1965. That summer Dwayne experienced invaluable mentoring from English professors Art Langvardt, Robert Harwick and Darrel Lloyd through summer workshops offered at Hastings College. Dwayne, who taught Modern Grammar, was able to be critiqued by his colleagues while also observing them in the classroom. "The summer institute was a wonderful experience. I got really lucky," he said. "Those three guys were fantastic teachers. If I've had any success as a teacher here, it's partially due to this experience and those teachers."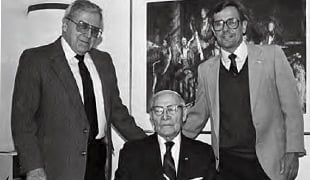 In 1970, he earned his PhD in English linguistics from Ohio University, making Hastings College one of the few small schools with a PhD linguist. He served Hastings College as a professor of linguistics and composition and as director of Interim, now known as J-Term, from 1970 to 1978.
In the 49 years Dwayne has taught at Hastings, he has certainly made an impact through dedicated involvement in a wide variety of activities. Dwayne was inducted into the Hastings College Athletic Hall of Fame in 2009 for meritorious service. For nearly 30 years, he has been the voice of the Broncos, announcing football and men's basketball games. He also served as an administrator on campus for 22 years, working first as Registrar and then as Assistant Dean and, ultimately, Dean of the College in 1983.
However, he continued teaching the entire time he was an administrator, because he wanted the contact with students. "I really enjoyed administrating, and I thought I wanted to be an administrator forever, but it got to the point where I looked forward to teaching class," he said. "It's been such a delight to continue teaching."
Brett Erickson '95/MAT '99, who teaches photography and journalism at Hastings College, first met Dwayne his sophomore year of college when he took Dwayne's linguistics and language course, known for many years among HC students as Ling and Lang. "It was that semester when I started thinking that understanding language was something I was never going to stop working with," Brett recalled. "A lot of people have given their lives to this college, but I think you would be hard pressed to find another human being who has given as much of his life to college and higher education," Brett said. "I don't know if you could measure the impact or even hope to measure the impact of Dwayne Strasheim on this campus. We are who we are, or what we are, because of him."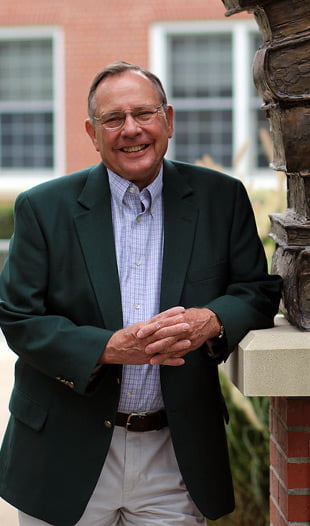 Brett not only learned the importance of linguistics from Dwayne but how to be an effective teacher as well. "More than anything from Dwayne I learned the value of planning and inclusion with students and that, if you plan well for a class, if you have structure, then neat things can happen in a classroom," he said. "The other thing is passion. When he talks about linguistics, it's effervescent."
Erin VanDeWalle '08 harbored a lifelong fear of grammar when she took her first class (Structure of English) with Dwayne. He used various tactics to ease students' anxieties, though. He often started class with a linguistics-related comic and gave Tootsie Pops to students on test days.
"When he could see that glazed look in our eyes because we simply couldn't take in any more information, he would ask if we had reached 'Information Overload' and he would end the lecture and either visit with us for the remainder of the class or dismiss class early," Erin recalled. "His sense of humor and his caring persona did not go unnoticed by his students."
Another class she took from Dwayne was American English Dialects, which is memorable to her because he brought in speakers with noticeably different dialects. "It was just a really neat addition to his class that he could have left out, but he didn't. He went that extra mile to make his lessons appealing and applicable to our lives," she said.
Erin's Cedar Rapids (Neb.) High School English teacher Lois Meyer also learned from Dwayne. Ultimately, a few of Erin's students have attended Hastings College and taken Dwayne's classes as well. "His impact can be traced through multiple generations of English teachers who were all motivated by his teaching passion."
HC junior Jocelyn Delgado's uncle and mother both went to Hastings College and learned from Dwayne.
"A lot of things he has taught us we discussed," she said, "and the first thing I knew about HC was Dr. Strasheim, because my mom had different stories about his class."
Jocelyn took composition class from Dwayne when she was a freshman and added an English minor after he encouraged her to keep writing. "He definitely sparked my love for writing and for the style of writing that I have," she said.
She will be taking American English Dialects from him this J-Term and another class from him in the spring. "I like taking classes with him, because it's a lot more discussion-based learning. He's really good about implementing relevant information and keeping it lighthearted and fun," she said.
Forty-nine years from when he first started as a "25-year-old kid who didn't have enough sense to be scared," Dwayne has been a professor, mentor, advisor and administrator to thousands of students and alumni. "My students and colleagues have been the joy of my career," he said. "I don't feel 73, because the students keep me young."
Dwayne's comfortable with leaving at the 49-year mark, although some have urged him to stay another year for an even 50. His tenure ties him with Dr. Hayes Fuhr, for whom Fuhr Hall is named. This provides an inkling of Dwayne's impact – what Dr. Fuhr did for Hastings College through music, Dwayne has done through linguistics.
By Emily Case '14