Hastings College junior Emma Downing is spending the spring semester studying abroad at Queens University in Belfast, Northern Ireland. Downing is taking courses in history and anthropology, which pairs well with her history and sociology majors at Hastings.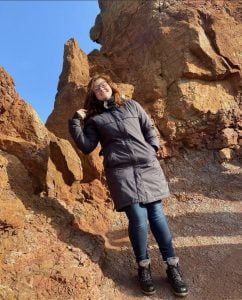 Since her arrival in January, Downing, who is from Colorado Springs, Colorado, said she's had an amazing time enjoying the city.
"I have a very strong academic interest in conflict and post conflict societies," she said. "Belfast is the perfect city because it breathes history. I wake up in disbelief some mornings."
Beyond academics, Downing said she's enjoyed visiting historical monuments and sites like Giants Causeway or the "peace walls" that used to separate the unionist and nationalist communities that now serve as reminders of history. Downing has found that Ireland makes quite the city for a "history lover" like herself.
She added that her time at Hastings College prepared her for the coursework at Queens University.
"The classes are structured differently; however, I think that I was well prepared by Hastings College to be successful here," she said. "Not only the rigor of the coursework, but the classroom experience made it easy to participate in and even lead classroom discussions."
For the study abroad experience, Downing applied for and received a scholarship from the Irish-American Scholars Program, which gives students the opportunity to travel and study in Northern Ireland for a complete semester tuition-free. It's open to students at colleges and universities who have hosted a student from Northern Ireland in the past — and Hastings College has hosted several.
History professor Dr. Rob Babcock nominated her for the program, Downing then completed the lengthy application to study abroad, including several essays that landed her the competitive placement.
"I was definitely surprised to make it through the process and get the opportunity to come," Downing said. "The application process was pretty cutthroat because you're essentially competing against thousands of students from every college in the United States that has ever hosted an Irish student."
Along with crediting Babcock for sparking her enthusiasm, Downing said the semester trip may not be the end of her time in Ireland, as she is likely to consider and attend graduate school in the city that stole her heart.
By Kianté Stuart, a junior from Nassau, The Bahamas, majoring in communications studies, business administration and marketing.