Alek Diffendaffer applies reflective markers to the major joints and anatomical landmarks of a baseball pitcher as 3D motion capture camera and high-tech software stand by to record the pitcher's movements. Each recording will be recreated into a life-like animation on a nearby computer screen.
The motion picture industry evolved greatly with the introduction of 3D motion capture cameras, and movies like "Avatar" and "The Polar Express" are possible thanks to these unique software programs.
While Diffendaffer is no stranger to this technology, his job does not include mass distribution of the animations to audiences worldwide.  He uses 3D motion capture software not for entertainment, but for science.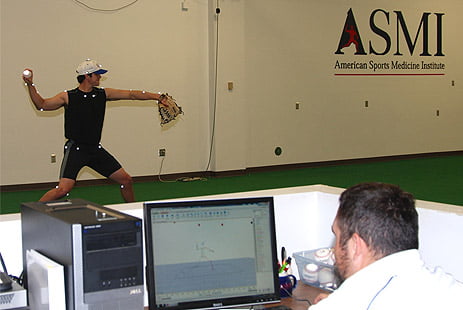 The 2012 Hastings College graduate is a sports biomechanist at the American Sports Medicine Institute (ASMI) in Birmingham, Alabama, where he helps runs the biomechanics research lab. His work relies on the very same 3D motion capture systems used to make movies and video games; however, his end goal is to help players reduce their risk of injury while also improving their performance.
"With this technology, we record an athlete as they perform their sports-related activities, like a pitcher throwing a ball. The software helps us create a 3D digital reconstruction of the movements," Diffendaffer said. "Then, we can analyze these movements by calculating the joint angles, forces and torques throughout the pitching motion. This information helps us to  produce a biomechanical evaluation for the pitcher to help them."
A start in exercise science
Diffendaffer's career in biomechanics is derived from a lifelong relationship with sports. As a high school baseball player and a collegiate linebacker with the Hastings College football team, he developed an interest in athletic physicality.
"As an athlete, I was always interested in how the body moves," he said. "I read a book about biomechanics early on in high school, and that fueled my interest in sports biomechanics."
He began building a future in the field as an undergraduate at Hastings College. As an exercise science major, he gained the foundational knowledge he needed to excel in biomechanics.
"The exercise science program at Hastings College was a fundamental stepping stone that prepared me to get my masters in biomechanics," Diffendaffer said. "I got one-on-one attention from my professors and was exposed to a good background of anatomy, physics and injury prevention."  
From there, he earned his masters in biomechanics from the University of Nebraska–Omaha, gaining experience with gait research through a graduate assistantship followed by a position as a laboratory engineer and research coordinator for Shriners Hospitals for Children.
In 2015, he accepted the biomechanist position with ASMI, making a long-desired return to sports in the realm biomechanics.
"When the opportunity to work at ASMI presented itself, it was a no brainer — I wanted to get back into sports with biomechanics," Diffendaffer said. "I knew it would allow me to help athletes move more efficiently and safely, which is something I've always wanted to do."
Improving safety and performance
Diffendaffer's research is centered on baseball biomechanics, though he's also performed biomechanical evaluations for athletes in other sports, including long distance runners and cheerleaders.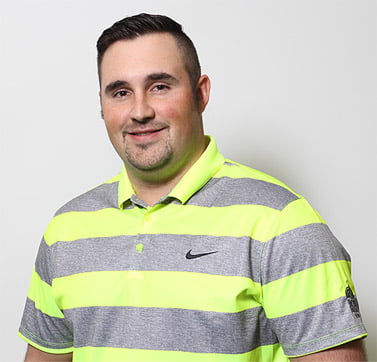 No matter the sport, his focus remains on helping athletes stay safe while maintaining a high-quality, competitive performance.
ASMI's biomechanical lab allows him to work closely with athletes of all walks of life — from players as young as eight to professional athletes playing in the major leagues. After collecting data with the motion capture technology, Diffendaffer walks each athlete through the evaluation. He explains the biomechanical significance of their movement patterns, highlights the force and torque created by each movement and identifies any potential precursors to injury.
"Based of the evaluation, we can suggest changes for safer movements. Those changes can even help them improve the performance in velocity and control," Diffendaffer said. "Oftentimes,  safety and performance go hand in hand."
In addition to working one-on-one with athletes in the lab, Diffendaffer completes formal research projects regarding hot topics in sports biomechanics. His two-year tenure with ASMI has begot four peer-reviewed articles, including a study on the effects of weighted balls in pitching.
Diffendaffer's continued work in sports biomechanics includes a project on injury mechanisms of back handsprings, as well as extensive research on Tommy John injuries in pitchers. He currently has nearly half a dozen academic articles undergoing peer review.
"The publications I've contributed can take the research results to the public to teach more people about safe performance habits," Diffendaffer said. "It expands the understanding of injury and injury mechanisms, and it's rewarding to add to the field in this way."
By Mallory Gruben, a senior from Eckley, Colorado, majoring in journalism