Getting involved in mock trial her freshman year of high school helped Hastings College senior Christina Woodside decide she wanted to be a lawyer. In 2013, being a counselor for Cornhusker Girls State, a citizenship training program, helped her discover her interests are closely tied to family law and social work.
"Seeing the potential that these soon-to-be seniors had for their futures made me realize that there is so much potential in teenagers," said Woodside. "After reading multiple sources of research about deviant behaviors that occur throughout that age, I realized that one main cause for this behavior was a lack of stability within their family structure. So, I made it a goal to help those teenagers who have lost their way because I truly believe that they have the capability of doing things that they would currently see as impossible. The way I feel that I can best help is by working in family law."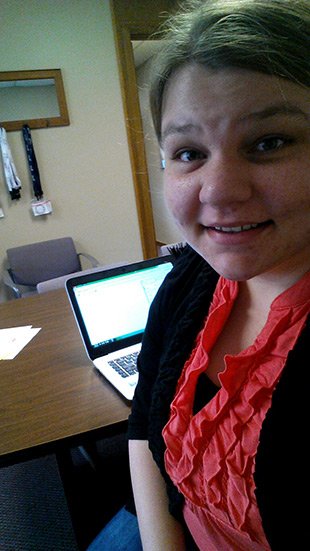 A sociology major, Woodside is gaining credit toward her degree and building experience for her career this summer by working for Court Appointed Special Advocates for Children South Central Nebraska (CASA). CASA's mission is to work to protect children who have been neglected or abused and to provide diversion services to juveniles.
As an intern, Woodside is working alongside CASA staff to start a Teen Court program for Adams County and have it running by September 2015.
"Teen Court is for first-time juvenile offenders," she said. "This will make it so these juveniles will not have to go through diversion. The only time they would need to go through diversion is if they are repeating offenders. So, my responsibility is to make the necessary paperwork and research what is needed to begin a program like this."
Woodside said that diversion consists of the juvenile and his/her parent(s) meeting with a diversion officer rather than an actual law enforcement officer, paying to enroll in the program and completing specified community service or educational classes. The diversion officer outlines the requirements of diversion.
The Columbus, Nebraska native also explained how the Teen Court program is going to work. After committing a crime, law enforcement reports the offenses and sends the teen to the county attorney. If the offense happens at school, the student is referred by the school's administration. From there, the county attorney refers them to the Teen Court program.
"With Teen Court, the jury (consisting of student volunteers aged 14-18) determines the amount of community service hours," said Woodside. "There will be a coordinator that ensures that the juvenile is completing his/her certain sanction. Also, there may be an outside person who provides opportunities for the juvenile to do community service. Usually this outside person will be at that certain community event."
According to Woodside, research shows that those who commit a first-time offense do so because they had a moment of poor decision-making. Those who take part in Teen Court are more likely not to commit a second crime.
"I think overall it will better serve those who have gotten in some sort of trouble because their sanction can be molded around their incident and the other various mitigating factors that played some role," said Woodside. "Also, the students who volunteer are from all the schools in Adams County. So, I truly believe that working together will better build their relationships with other schools and with the community as a whole."
Woodside hopes that the internship with CASA will provide her with valuable information regarding family law and social work as she witnesses and participates in what exactly goes into the services CASA provides and how each county CASA's jurisdiction differs from the others. As a sociology major, Woodside said she has been involved in both political science and sociology classes that focus on different policies relating to crime, so she hopes to be able to apply information she has learned at Hastings College to real-world situations.
"Overall I am very thankful for this opportunity," she said. "I never thought that I would be helping with the development of a program that will be used in Adams County for years to come."  
By Amanda Miller, a senior from Woodland Park, Colorado majoring in journalism