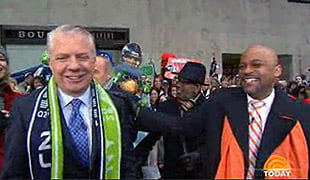 During an appearance on "Today," Hastings College graduate and Denver Mayor Michael Hancock '91 entered a friendly wager with Seattle's mayor as the cities' football teams play in the 2014 Super Bowl. Usually, politicians place these bets with distinctive foods – think Colorado beef versus Washington salmon.
This bet, however, is unique: The losing mayor must visit the winning mayor's city during an AmeriCorps day of service.
That's where a Hastings College Bronco and Denver Bronco fan puts his priorities: Service. Such service is integral to the environment in which Mayor Hancock completed his undergraduate degree.
Since its founding, Hastings College has emphasized service to one's community. Students organized and run Food4Thought, which provides underserved families with backpacks of food for weekends, and our president has read to local elementary students. Community service is not only a great way to build leadership skills and put classroom learning into practice, it's just the right thing to do.
For our efforts, Washington Monthly ranks Hastings College 14th among 350 Baccalaureate Colleges across the country for emphasizing student involvement with community service and service learning.  As Mayor Hancock demonstrates both through his service in elected office and the bet he placed, this tradition stays with Hastings College alumni well after graduation.
Want to join Hastings College's tradition of service and success? Apply today – or request more information to learn more.