On a bitterly cold winter's morning, Matt Darling '03 points out the wonders of Fontenelle Forest Nature Center: 17 miles of hiking trails winding through 1,400 acres of upland forest and Missouri River wetlands, a tree-top refuge for injured eagles and other raptors, and an aerial adventure park suspended over six acres of forest canopy.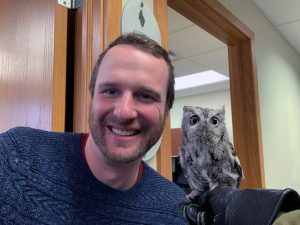 "I'm a tree hugger. I love the natural world," said Darling, who joined Fontenelle Forest as executive director last year. "I spent the last 10 years in philanthropic finance, and I wanted to do something hands-on in nature. Fontenelle is a place that has been near and dear to me since I was a kid. I know the trails like the back of my hand."
Nestled at the edge of an urban neighborhood in Bellevue, Nebraska, 10 minutes from downtown Omaha, Fontenelle Forest is one of the largest private nature centers in the United States, attracting 200,000 visitors annually. Fontenelle also operates Neale Woods, a preserve in North Omaha with 550 acres of forest, prairie and wetlands along the Missouri River. Camp Brewster and Camp Wa-kon-da at the Bellevue location provide summer experiences for kids ages 4 to 15.
The great outdoors has never been far from Darling's heart and mind. Even during the years he worked as CFO of a real estate firm and executive vice president of the Omaha Community Foundation, he audited sustainability and environmental studies courses at the University of Nebraska Omaha and became a certified Nebraska Master Naturalist.
"I had no idea why I was doing it. I just knew that I loved it. Now it's very relevant in decisions I make every day," Darling said.
That unique combination of skills makes Darling a great fit for Fontenelle's leadership role, said board chair Shannon Mullen O'Keefe. "Matt brings not only extensive nonprofit management, leadership and business experience to the executive director role, but as importantly, he brings a passion for the natural world that energizes and inspires everyone from his team to our community," she said.
Educating new generations of environmental advocates
After joining Fontenelle Forest, Darling gave away most of his suits and ties. "I kept only the ones I need for weddings and funerals," he said with a laugh.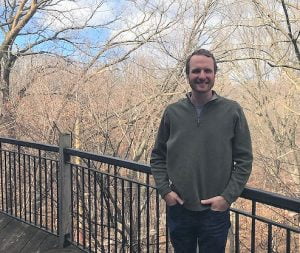 On a typical day, he might walk the trails with his team and discuss planned updates to signs and trailheads. He might meet with a raptor specialist to plan a program at a local school. Or he might reach out to prospective donors and board directors about ways to enhance the experiences of Fontenelle's 8,000 corporate, family and individual members.
"If visitors have a positive experience here, that will result in a greater appreciation and advocacy for the natural world everywhere. That's what we're after," he said.
Focused on the four tenets of conservation, education, recreation and research, Darling and his team provide opportunities for all age ranges. Preschoolers meet twice each week for Mudpies, a program introducing natural science topics through outdoor exploration, crafts, songs and stories. K-12 groups visit Fontenelle for programs like "Awesome Adaptation" and "Backpack Forest Exploration." College interns help restore the forest to an oak woodland savanna, the original tree cover that dominated the area. People of all ages stroll the boardwalk and hike the trails to enjoy quiet solitude and connect with the natural world.
To generate revenue for its education and conservation programs, Fontenelle contracts with an outside company to operate TreeRush Adventures just north of the nature center. Thrill seekers, protected by harnesses, explore six acres of forest on aerial trails of zip lines, suspended bridges, rope ladders and other elements reaching as high as 55 feet. KidsRush, a climbing area for 4-6 year olds, lets preschoolers safely traverse trails a couple of feet off the ground.
A 360 degree education at Hastings College
Darling credits his liberal arts education for his versatility and adaptability throughout a varied career. At Hastings College, he studied marketing and minored in studio art, even flying to Amsterdam for a glassblowing conference.
As a junior just shy of the two biology credits he needed to graduate, Darling met with professor Dallas Wilhelm and created a summer course comparing the environments of Manitoba and Nebraska. He and two buddies loaded up an old Honda Accord and drove 700 miles north to explore the forests and shorelines of Hecla Provincial Park. After driving through Manitoba to Saskatchewan, they traveled south to Nebraska's panhandle then across sandhills, prairies and woodlands back to Omaha. Darling got a B-plus on his 30-page paper and confirmed a love for nature that ultimately led to Fontenelle.
"That was one of the experiences that convinced me I could do something like this. A liberal arts education is a 360 degree education. I went from finance and granting to running a forest with 35 staff and 2,100-plus acres. I love every single minute of it." he said.
By Judee Konen '85, associate vice president for advancement