You might think that Matt Darling '03, vice president of donor services at the Omaha Community Foundation, works exclusively with CEO's, business executives and other members of the "top 1 percent." But the idea that philanthropy is the sole province of the wealthy is a common misperception, said Darling, who counts small business owners and teachers among the foundation's 1,500 fund holders.
"We don't serve only the wealthy. Our fund sizes have a broad range," Darling said. "The word philanthropy is always attached to big name philanthropists, people like Buffett and Gates, and in the past, Ford and Rockefeller. Philanthropy is just a fancy word for saying you want to give."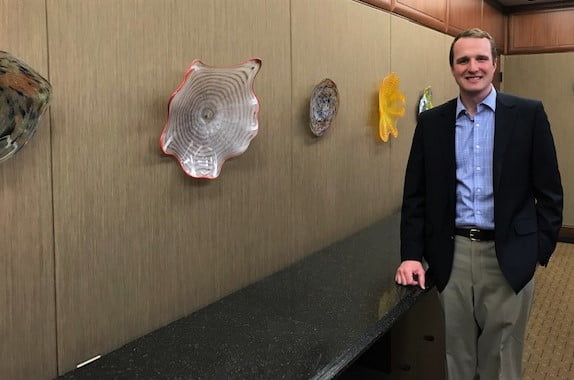 Darling, named one of Ten Outstanding Young Omahans in 2017, is a thoughtful, engaging professional who connects donors from all walks of life with opportunities to do good in his hometown. He leads the team that delivers services to individuals, family foundations and corporate partners, and works closely with professional financial advisers. On any given day, he might facilitate a family foundation board meeting, arrange the transfer of a complex financial asset or connect a donor with a newly-formed nonprofit.
"Every day I get to work on different and new initiatives," he said. "It's fascinating for me to be able to touch on so many different facets of philanthropy and the community as a whole."
Darling, who graduated with a major in marketing, is a natural fit for a nonprofit that helps others support the community. A graduate of Leadership Omaha, he has been involved with the Omaha Central High School Foundation, Nebraska Master Naturalist Foundation, Suburban Rotary of Omaha and Omaha Venture Group, among other organizations
Last October, he was one of 10 alumni and friends elected to the Hastings College Foundation's expanded Board of Trustees. The Board, which meets twice each year, makes a difference in students' education through tangible projects, such as Trustee Innovation Grants awarded to faculty and staff.
From parking Porsches to building donor relationships
Before moving to nonprofit work, Darling was for 10 years co-owner of Paramount Parking Inc. in Omaha, one of the Midwest's premier parking firms. Paramount offers high-end valet services for private events and, under Darling's leadership, expanded to include ventures like real estate and management of parking garages. An admitted car buff, he enjoyed parking Porsches and Lamborghinis, but he yearned to make a more powerful impact on his community.
"I had an interest in doing something different, something a little more fulfilling. I wasn't naive enough to think that nonprofit work was easy, but there's a heart factor, a mission," said Darling, who honed his skills by earning a Chartered Advisor in Philanthropy designation from The American College of Financial Services in Bryn Mawr, Pennsylvania.
Over the past six years, Darling has risen through the ranks and contributed to the success of the Omaha Community Foundation, which rates in the top 5% in overall giving and top 3% in per capita giving among the 700-plus community foundations in the United States. Since it was established in 1982, the Foundation has facilitated donor gifts of an incredible $1.6 billion.
"Matt has grown the sophistication of the foundation's giving services through expanded partnerships with professional advisors, growth of family giving consulting and a commitment to personal legacy giving," said Sara Boyd, president and CEO. "Because of his team's unwavering dedication to client service, the Omaha Community Foundation now ranks in the top 2% of its peers nationwide in donor satisfaction."
Discovering new opportunities at HC
Darling was ahead of the curve as an undergraduate, participating in the kinds of internships and community projects that are a focus of what is known as Hastings College 2.0, the curricular and calendar revamp launching this fall. He worked with the Adams County Convention and Visitors Bureau, was a marketing consultant for two local businesses and interned at Idea Bank Marketing, the Hastings agency co-founded by Ann (Zook) Martin '77.
"I always said yes because I wanted new experiences," Darling said.
Even when the experience was less than fulfilling, like a tedious summer working in the forms department of an insurance company, it was still valuable. "Knowing what you don't want to do is incredibly important. It's a stepping stone, and you can keep moving up to a better fit and more happiness and connectivity," he said.
That openness to new experiences also led Darling to the art department, a minor in studio art and even a scholarship-subsidized journey to Amsterdam for a glass art conference.
"I never liked art because I never experienced it, but I walked past the college's glass studio and looked in. It was boisterous and hot. There was fire shooting out and music was blaring. I had to check it out," Darling said.
He still occasionally blows glass at the Omaha studio of fellow HC alumnus Ted Dohmen '00. Several of their glass pieces line the wall of a conference room at the Foundation's offices in Kiewit Plaza.
Given Darling's variety of interests and experiences, it is not surprising that "adaptability" shows up on his list of top five traits in the Gallup StrengthsFinder assessment. (All first-year students at Hastings College will begin taking the popular assessment this fall.) Indeed, adaptability serves Darling well whether he's working with donors interested in the fine arts, humanities, education, the environment or dozens of other areas. In each case, his mission is to help individuals fulfill their charitable dreams.
"I have no idea what my future holds, but I know it will always be in the philanthropic and nonprofit world," he said.
By Judee Konen '85, Associate Vice President for College Advancement