From performing in a high school alternative rock band to becoming her own singer/songwriter, Hastings College senior Carly Cremers, who writes and performs under the "C.C. Rose" name, landed an opportunity to travel to Nashville, Tennessee, to record her song, "My Fairytale," which is available on all streaming services and can be found online.
The theater and elementary education double major participated in a talent show during the annual Kool-Aid Days celebration in 2017 in Hastings, Nebraska. She entered under two different categories: singing and hula-hoop dancing and placed in the top three for hula-hooping. The top three winners moved on to the state competition, where Cremers won the entire show.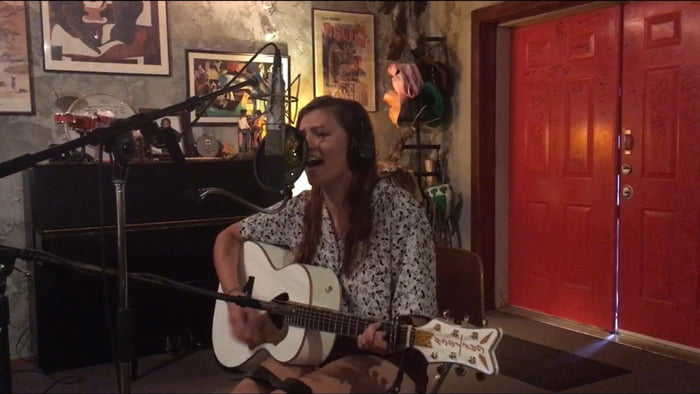 After winning, Cremers talked with Wynne Adams, director of the talent show, about her dream to record a song in a studio. Adams had a contact in Nashville who could make that dream a reality, so she connected Cremers with Mark Allen of Benchmark Productions.
Allen gave Cremers the option to travel to Nashville or record closer to home in Omaha. But as a Columbus, Nebraska, native Cremers wanted the opportunity to travel and flew to Nashville for a three day adventure. While in the recording studio, Cremers worked with several different musicians who helped make her dream song come to life.
"The musicians brought so many different talents that made the song better than anything I could have done myself," she said.
Cremers musical performance career originally started as a second-grader when she and her brother were song leaders for their church. After a few years, she began expanding her music and joined an alternative rock band in high school, where she performed and started songwriting.
Her high school band, Scriptive, was made up of other high school students from Columbus, and they performed at multiple venues like garages, barns, and even did a few shows in Omaha.
After coming to Hastings College, she strayed away from alternative rock and started to develop her individual musical skills further. Cremers had an internship in Omaha at a theater in 2018, and that's where she began to do more acoustic singing at open-mic nights and came up with her stage name, C.C. Rose.
While attending Hastings College, Cremers has received tremendous support from the campus and the community. She performed at The Lark Downtown, which Hastings College ensured her peers would be able to attend free of charge.
"It was amazing to see the support I received from campus for that event, Hastings College does a lot to make my dreams flourish," she said.
Cremers has many aspirations in life, as a theater and elementary education double major, a singer/songwriter and a hula-hoop dancer, she has always felt encouraged to pursue what she wants to do. Hastings College has helped her feel confident in her goal to create a business called, Hoopla 4 Health, which teaches students hula-hooping skills to focus on mental, physical and spiritual health.
"Hastings College has helped me learn to be open to creativity and has given me the tools to take the road less traveled and combine all my passions into one," she said.
By Courtney Hanson, a junior from Brookings, South Dakota, majoring in communication studies and philosophy and religion