Hastings College senior Kara Wiegert interned for the Central Nebraska Council on Alcoholism and Addictions (CNCAA) through AmeriCorps this past summer. This was the third summer Wiegert worked for CNCAA, and she said she's been inspired through her experience and believes that anything is possible no matter where you come from.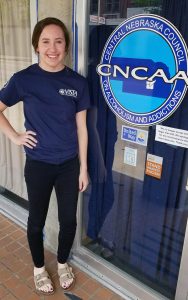 Wiegert worked alongside the development director to implement marketing and fundraising strategies. The double business administration and marketing major helped plan events and, in the past, has done community outreach.
CNCAA, based in Grand Island, Nebraska, is a small non-profit organization that serves central Nebraska with alcohol, tobacco and other drug prevention education, information, referral, intervention and recovery services.
Wiegert, who is from Grand Island, has worked with CNCAA since the summer between her first and second years of college. She said she found the opportunity through the Heartland United Way and has been asked to return each year.
During her first two summers, she focused on summer events CNCAA puts on, including an auction fundraiser. Because of COVID-19 this past summer, their planned activities were canceled or postponed.
For the auction, Wiegert would reach out to different organizations and businesses for donations. She said they received donations she never thought a small non-profit organization in Nebraska could get.
"We would get Southwest Airlines tickets and Chicago Cubs merchandise, and I just can't believe I was a part of something like that," she said.
This year, Wiegert helped prepare CNCAA for Go Big Give, a community-wide fundraising event held on July 7, by creating social media content to promote the event.
Go Big Give is organized by the Heartland United Way and the Grand Island Community Foundation. More than 140 non-profit organizations in the Grand Island participated. The event raised more than $1,000,000 this year, with 5,025 donations to 137 organizations. CNCAA itself raised just more than $10,000, which was more than it typically receives during Go Big Give.
Through her internship, Wiegert said she learned a lot about how non-profit organizations work and all the efforts that go into fundraising. CNCAA has helped her figure out what she wants to do in her future career. She dreams of using marketing and business to help make a difference for others.
She said Hastings College's marketing and business classes taught her skills to excel in her internship.
"In Hastings College classrooms, I've been taught how to be creative and think critically to adapt to new things," she said.
During her sophomore year, Wiegert studied abroad in Paris, France, as part of the College's study abroad initiative. She said the experience helped her get out of her comfort zone and showed her she could do things that may seem big or far out there, but she can still make them happen.
"It doesn't matter where you're from, you can make your dreams come true," she said. "You can't be afraid to reach for your goals, because you might end up reaching them a lot faster than you thought you could."
By Courtney Hanson, a senior from Brookings, South Dakota, majoring in communication studies and philosophy and religion.