Each spring, thousands of college students across the country put on caps and gowns, walk across a stage and enter the real world. Unfortunately, many of these well-educated students are clueless about managing money and navigating their financial futures.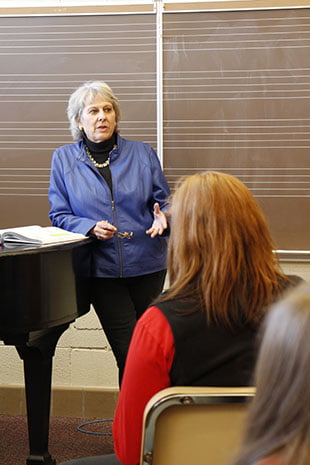 Professor Deb Johnson plans to change that for students at Hastings College.
Her course, Foundations in Personal Finance, is built around video lectures by Dave Ramsey, the renowned money guru, where he explains everything from saving for emergencies to properly funding your 401(k). 
"I attended Dave Ramsey's class about 12 years ago," said Johnson, Assistant Professor of Music, with a passion for personal finance. "When I started working for Hastings College full-time I offered to teach it during January Term," she said. "The idea kept hounding me that we needed to be teaching this to everyone."
With the course filling to capacity most J-Terms, including this year, Johnson pitched the idea to the Faculty Senate to offer the class during regular semesters as well. They agreed. Johnson will start teaching her class in the fall semester.
"There were 32 students in the J-Term class this year," Johnson said. "I think the indicator is that this class is always full. We need to offer more opportunities for students to learn this material before they graduate."
Building wealth, avoiding life issues
The course teaches students how to protect themselves with different types of insurance, develop a budget, build wealth through investing and avoid many of the life issues that come along with debt and financial distress.
"There are solutions out there; there are ways to avoid these problems students face," Johnson said. "Look at all the things like marriage problems, depression, missing work, missing pay. So many things are tied into finances. If you settle that, you can settle your life. This class will change students' lives if they apply it."
More than 70 percent of college students feel stress regarding their personal finances, according to the 2014 National Student Financial Wellness Study, a survey of about 19,000 students at two-year and four-year institutions nationwide conducted by Ohio State University. Less than 25 percent of the students surveyed reported they have attended a personal finance course or workshop in college. Overall, half of students responded they follow a financial budget, but students at four-year institutions were more likely to report they never follow a budget.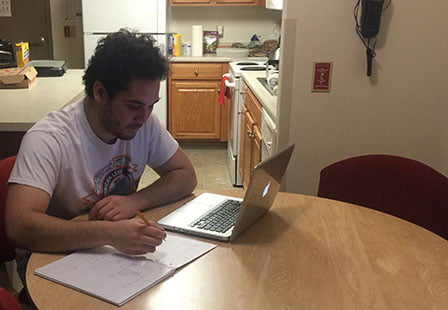 Alex Panganiban, a sophomore construction management major from Hastings, Nebraska, believes Foundations in Personal Finance will help him avoid financial problems in the future. He took the course during J-Term 2015.
"The class showed me the importance of always having a plan," he said. "Sometimes unexpected things happen and this class taught me that as long as you have money put away, unfortunate events change from financial crises to minor problems. I always wondered why financial skills were never taught in high school, but I am glad to see Hastings College is stepping up to ensure students are financially educated for their lives after graduation."
Foundations in Personal Finance will not only help students address financial issues, it will also be an essential addition to Hastings College's curriculum, according to Dr. Gary Johnson, Vice President for Academic Affairs.
"In terms of producing students with the kind of life skills we want them to have, it is an important topic," he said. "I hope that students take it as an elective at Hastings College."
By Jacob Konen, a sophomore from Hastings, Nebraska majoring in marketing