Construction always fascinated James Davis '08. While growing up in Cozad, Neb., he helped with small building projects and worked on summer construction crews beginning as a high school freshman.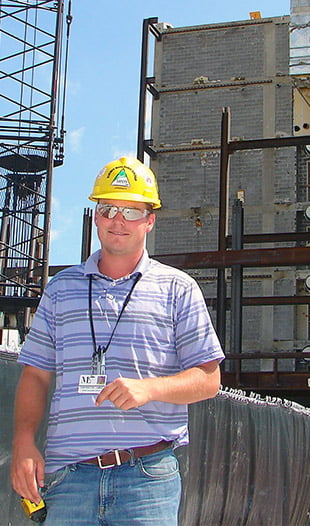 A 2008 HC grad, James was among the first graduates of the college's unique Construction Management program, which partners with Central Community College (CCC) to offer students a four-year liberal arts major from Hastings College with hands-on construction coursework completed at CCC.
"It is different being able to tell people I have a B.A. in construction management because it's rare, and I think it's an asset," James said.
While a student at HC, James played on the HC Men's Basketball team for four years, was a two-time NAIA Academic All-American, completed an associate's degree in Construction Technology at CCC, worked part-time and volunteered as a TeamMates mentor.
"It definitely forced me to be more organized and prioritize things," James said of his schedule. "Employers are looking for people who can be diverse and handle different or unexpected circumstances that may arise at any given time."
James worked as a field engineer for Kiewit Building Group in Hastings on Mary Lanning Memorial Hospital's eight-story addition and 80,000 square-foot remodeling project. His supervisor, Kiewit Building Group Superintendent Joe Cunningham, said James possesses the skill set necessary to be successful in contracting, thanks to the HC program.
"The Hastings College Construction Management program creates unique individuals by demanding that they be proficient not only in the technical aspects of construction but in the arts and in business as well," Cunningham said. "These students graduate with a broad range of experience and are equipped with the tools to be successful managers."
James says the liberal arts program at Hastings College allowed him to experience classes he may not have normally taken and gave him the tools he needs every day at the construction site.
"The liberal arts program is such a beneficial thing. It helped me to be well-rounded, to be able to work with different people and to coordinate among builders, architects, engineers, administration on a daily basis," James said.