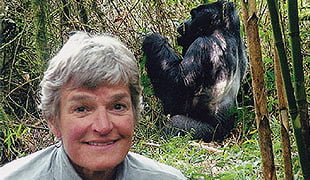 Dr. Deanna (Schmidt) Hutchins '74 is an adventurous spirit wrapped in a barrier-blind attitude and a quest-seeking point of view. An anomaly in her early career, Deanna is an obstacle-buster, way-paver, and example-setter for legions taking her lead.
Deanna was a biology major at Hastings College during a time when a shortage of doctors made it possible to enter medical school after three years of undergraduate study. By the time she came back to graduate (Summa Cum Laude, no less) with her Hastings College class in 1974, she already had a year of medical school under her belt, and ample experience in dealing with hostile mindsets.
"I was one of 15 women in my class of 150 at the University of Nebraska MedicalSchool in Omaha," she said. "A lot of men thought we would practice for a few years, then quit to raise families. During my residency at the University of Oklahoma, women were discouraged from getting pregnant because men would have to work harder. That point was made very clear."
Despite the obstacles she faced, Deanna went on to specialize in obstetrics and gynecology, and was the first female OB/GYN to practice in Lincoln, Neb. "When I joined my first practice in 1981, I was introduced to an older pediatrician who wouldn't shake my hand to recognize me as a peer," she said. "He saw me as someone who wastaking a place that belonged to a man."
Deanna joined the founder of Gynecology & Fertility, P.C., in 1981 and eventually formed the first OB/GYN practice in Lincoln owned and managed by women. She practices there with an all-women team of five doctors and one physician assistant. "My past experiences have made me a better doctor," she said. "My colleagues and I treat all people equally, with the type of respect we would show our own families and friends. I think the women we serve find that comforting."
Her choice of specialty came through a process of elimination. "My rotations as a third-year medical student taught me what I didn't want to do," Deanna said. "I liked surgery, and I really enjoyed delivering babies. Obstetrics and gynecology was a perfect fit."
Her fascination with the newness of life was born from an earlier, unusual spark. "My advisor at Hastings College arranged for me to see an autopsy," she explained. "It was an exciting moment, like I was entering a hallowed space. Being in the company of death was a very profound experience. It's where I began to recognize the mystery of life, and how extremely personal it is for that individual."
Now Deanna revels in the mystery of birth, having witnessed it thousands of times. "I've practiced as an OB/GYN for 34 years," she said. "Until recently, I delivered about 100 babies a year. Each birth elicits that same mystical wonder. I have been very privileged to be a part of those intimate moments."
Exotic adventures also feed Deanna's unquenchable spirit. She and her husband, Mark, a hematologist-oncologist with a practice in Lincoln, travel extensively to the world's mysterious places. Deanna's passport is especially heavy with stamps from Antarctica, Iceland, Sri Lanka, Kenya, Botswana and more.
 Scaling all 19,336 feet of Tanzania's Mount Kilimanjaro (the name itself means "mystery wreathed in clouds") in 2002 is one of Deanna's proudest achievements. "Mark and I spent a week hiking to and from the summit," she said. "Reaching the top was overwhelming. I was emotional. The feeling was very similar to hitting the finish line of a marathon."
Deanna fully understands the marathon rush. She's completed three.
Future destinations include Tibet or Nepal, but Deanna's heart is in Africa. She's heading to South Africa in the next few months to help with a study involving elephant reproduction. "I'll analyze a lot of pee and poo samples," she joked. "We're trying to understand why elephants have a hard time reproducing in captivity."
Mark and Deanna's thirst for achievement and adventure have profoundly impacted their two adult children. Their daughter, Becky Hutchins, is a senior at Hastings College pursuing a major in biological sciences, with medicine possibly on the horizon. Mark and Deanna's son, Derek, who taught high school English in Omaha, is applying to medical school, as well.
"It's an exciting time to be in medicine," said Deanna. "Mindsets have changed, and now 50 percent of medical school students are women. It's entirely possible to practice medicine and have a family. Having your own practice provides scheduling opportu­nities, too, which helps tremendously."
From barrier-buster to world explorer, Deanna Hutchins is the perfect example of a life well lived.
By Tamera (Pruitt) Schlueter '90