Two Hastings College graduates carried on a tradition of Bronco mentorship when they hosted a summer intern, Hannah Adams, who worked for the company with deep Hastings College roots. The opportunity allowed Adams to use her graphic design and marketing skills in a different setting and on a different level.
Adams, a senior, worked under Joe Brown, a 2018 graduate and vice president of marketing for Farm Credit of Southern Colorado (FCSC) in Colorado Springs. The president and CEO of the company is Jeremy Anderson '04.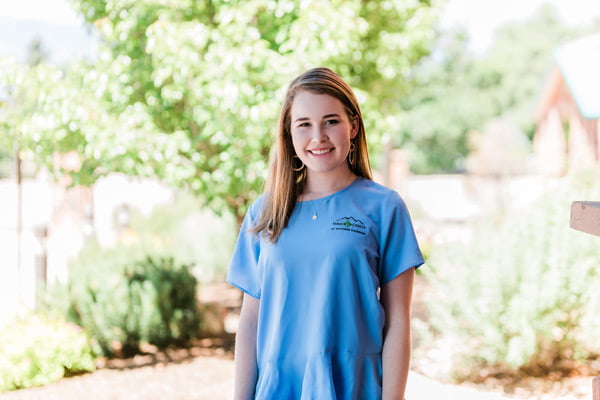 Adams, a marketing and studio art double major, brought many assets to the company, tackling multiple, large projects, including a products and services folder, an entire magazine and a goal of keeping branding consistent through all materials. While managing those projects, she attended meetings and shadowed Brown, which gave her more of an inside look at what a vice president of marketing does.
FCSC offers customer appreciation dinners at each of their branches, and Adams attended multiple dinners over the summer, meeting influential people like current and previous board members and other customers that make FCSC what it is today.
"While meeting people in the community I've realized that you can find a good soul no matter where you are," she said. "I'm building new relationships, learning new things, and learning how to live in a city."
As a Cairo, Nebraska, native, Adams found the move to Colorado pivotal to experiencing life outside central Nebraska. She grew up an hour away from Hastings College, so this is her first time living somewhere entirely new.
"I've made incredible relationships here, and it is easy to be far away from home with so many Broncos in your corner," she said.
While he was in school, Brown interned for Pacha Soap Co., a company owned and operated by Hastings College graduates. Adams also works as Pacha Soap's graphic design intern during the school year. At Pacha, she designs product packaging, flyers, cards and any other marketing materials they need.
Brown and Adams also shared a graphic design class at Hastings College. Brown got to see her work first hand, and when he was looking to hire an intern for the summer, he knew Adams would be a great addition to the team.
"Getting to see her work first-hand showed me how creative, unique and strategic she is," Brown said. "Knowing that she is not only talented but has the experience, made her an easy hire for me."
Adams said she values the loving and caring community at Hastings College. The small classes allow her to know classmates and professors on a personal level and make the connections that lead to unique opportunities.
"It's not how many people you know. It's who you know. Hastings College has connected me with many people that have helped me succeed," she said.
By Courtney Hanson, a junior from Brookings, South Dakota, majoring in communication studies and philosophy and religion.