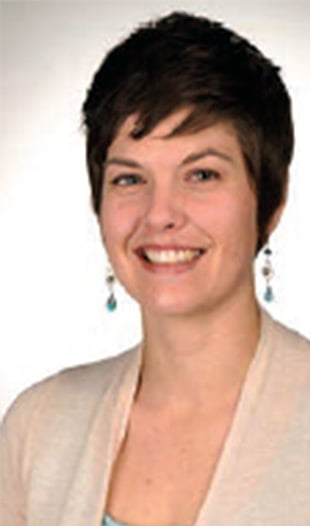 The Rev. Katie Anderson '04 spends her days among many who are sick and dying, among those receiving chemotherapy and radiation, among those fighting for their lives.
It's a place, she said, where she most deeply encounters God.
Katie is Chaplain of Oncology Services for Norton Hospital and Norton Cancer Institute in Louisville, Ky. "It's an intense and beautiful and painful place at times," she said. "There is a balance of grief and celebration, despair and hope."
Each day involves many conversations, but little small talk. Discussions of life and death and afterlife are quick to emerge, something Katie relishes.
"It's quite a gift to be let into people's lives so quickly in such vulnerable places," she said.
Ministering to cancer patients is not something Katie imagined while growing up in Sterling, Colo. After earning a Bachelor of Arts degree in English at Hastings College, Katie attended McCormick Theological Seminary in Chicago for her Master of Divinity degree. During a required stint ministering to hospice patients, she discovered hospital chaplaincy was the right fit.
Katie's experience at HC prepared her for a career that involves pain and healing; connecting with and understanding people of different faiths; communicating with doc­tors, nurses and social workers; and often advocating for the poor and needy.
"When I went to Hastings, I met all kinds of people from different places, and I learned things about people and about the world and about differences that I didn't know growing up in a fairly small, homog­enous town," she said. "A lot of what it (HC) taught me was cultural competency and compassion, which is so important for the work I do now. It taught me how to be a kind person in the world."
By Amy (McGraw) Palser '99