Tyler Schuster, a senior at Hastings College, is spending his summer surrounded by news.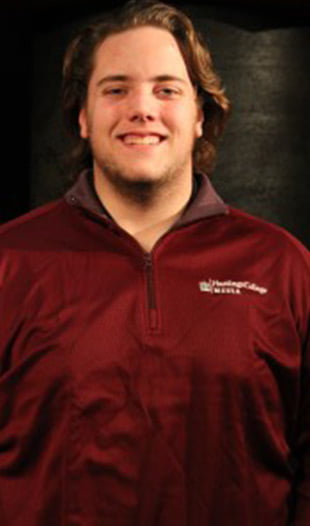 As a double major in communication studies and journalism, Schuster is interning at the Hastings Tribune, where he is writing stories and helping with the circulation of the newspaper. He writes everything from game recaps and feature stories to standard news stories.
The Hastings Tribune, located in Hastings, Nebraska, publishes news both in print and online.
"The Tribune has an audience that stretches across the state, but specifically targets Hastings and the surrounding areas," said Schuster.
After a referral from Associate Professor of Communication Arts Brett Erickson during the school year, Schuster went through an interview process with the Tribune.
"I was able to prove that I was worthy of this opportunity."
What started as a freelancing job for sports writing in February has now become a summer internship for credit.
Professors and classes have helped Schuster prepare for his internship.
"Brett Erickson helped a lot," said Schuster. "He placed a call that sort of got my foot in the door at the Tribune. Eric Tucker's Newswriting Fundamentals class really set the groundwork for my ability to learn how to write effectively. A J-term Sports Reporting and Writing class originally sparked my interest in this sort of profession. Sharon Brooks has also been a big help. She is my advisor for my internship credit."
By working as an intern at the Tribune, Schuster is hoping to gain valuable, real-world experience.
"I'm interested in learning more about and improving in the areas of writing stories, researching, reporting and interviewing," Schuster said. "I also look to learn a lot from Darran Fowler."
As the Publisher at the Tribune, Fowler is Schuster's boss and internship supervisor.
Schuster said, "He normally assigns stories to me, and he's the one I meet with to talk about writing opportunities."
A native of LaVista, Nebraska, Schuster said he has enjoyed writing game recaps for the Wilcox-Hildreth (Nebraska) boys' basketball games.
"They were really good and fun to watch," he said.
His favorite story, though, centered on a man named Ron Koch.
"He is a Hastings native, who played baseball at Duncan Field growing up, watched his son play/coach at Duncan Field, and then threw out the first pitch of a Legion game last week," said Schuster. "It was really interesting hearing the stories that he shared."
After graduating from Hastings College, Schuster hopes to write for a newspaper or online outlet.
"I really enjoy writing about sports, so in a perfect world I would have the chance to do that."
By Amanda Miller, a senior from Woodland Park, Colorado, majoring in journalism