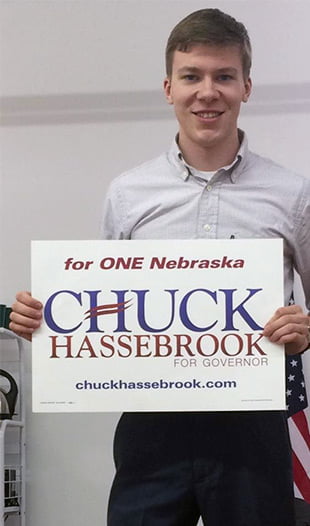 Nick Musgrave, a junior from Parkersburg, West Virginia, double majoring in history and political science spent last fall on the campaign trail with Chuck Hassebrook, 2014 Nebraska Democratic candidate for Governor, as the Regional Field Director.
Musgrave developed an interest in politics at an early age from his father who also studied political science at Hastings College.
"I grew up having political discussions with friends and family, and it just never went away."
An internship in January 2014 was Musgrave's first experience working on a campaign. He was trying to gain firsthand experience and got hooked. In May 2014 he began his full time position and took this past fall semester off, working from the campaign office in Grand Island, Nebraska.
"I walked into my first day as an intern knowing basically nothing," said Musgrave. "The best part of this experience has been the amount of knowledge I've been able to gain firsthand. I've learned so much more by working in the field than I ever could have from reading about it."
As Regional Field Director, Musgrave's oversaw all field operations in central Nebraska.
"I basically functioned as a managing organizer, so I recruited volunteers and set up phone banks like the rest of my staff in addition to making call lists, setting goals, and making sure the region runs smoothly."
After graduation, Musgrave would like to start a research and advocacy group focusing on urban Appalachia. He feels, from growing up in the area, that it is often overlooked in policy discussions, even at a state level.
Musgrave's piece of advice to all college students hoping to get their feet wet in the campaign world: don't be afraid to get out there early.
"Most importantly, don't let anyone tell you that you're too young to do something or to get involved," he said. "Many of the top people in campaigns nationwide are under 30, and they got to where they are by starting out while still in college." 
Written by Maggie Meisinger, a senior from Littleton, Colorado.