Trina Knight, a 2015 Hastings College alumna, spent a few years after graduation supporting non-profit organizations but is now working on her doctoral degree in criminology at Kansas State University in Manhattan, Kansas.
Knight's research focuses on providing a criminological perspective on the issue of phishing scams that seek to extract money, passwords and other personal information from internet users under false pretenses.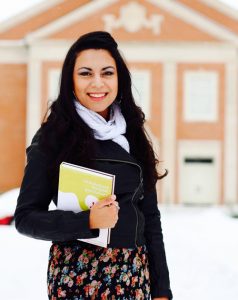 The sociology and psychology graduate is focusing her dissertation on the intersections of religion, technology and crime by exploring how technology mediates revelations of sexual abuse within religious institutions and its role in the tracking of perpetrator movements.
Before attending graduate school, she served two years as an AmeriCorps member for United Way and Court Appointed Special Advocates for children (CASA). Knight worked to improve volunteer recruitment and retention and connected young people with opportunities for community service and skill development within the community.
She said Hastings College prepared her for the future in many ways. She came to graduate school ready to read and critique academic journal articles, allowing her to work more efficiently and rigorously.
"Hastings College professors provided me with opportunities to create research projects and present my work. These experiences helped me communicate my research findings to community members, academics and stakeholders in ways that are meaningful and practical," she said.
Hastings College professors helped Knight gain knowledge, social connections and continue to give her career and life advice. They gave her tools for applying to graduate school and helped her find which school would best serve her needs.
"My professors continue to be a source of guidance and encouragement for me," she said.
Knight's advice to current students is to seek out opportunities for internships, job shadowing, and service-learning.
"These opportunities helped me clarify my career path and provided me with crucial community connections I still rely on today," she said. "There is no substitute for hands-on experience and observation."
By Hazel Ashton, a sophomore majoring in health systems and psychology and Courtney Hanson, a junior majoring in communication studies and philosophy and religion