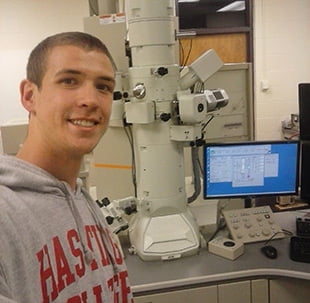 In Rapid City, South Dakota, Marcus Brown is conducting research on the crystallization of germanium as it grows from different metallic surfaces. As part of a Research Experience for Undergraduates (REU), the junior from Hastings, Nebraska, is working with Dr. Scott Ahrenkiel in the nano-material and nano-engineering department at the South Dakota School of Mines and Technology (SDSM&T).
"I will be attempting to create germanium thin films that can be used to build better solar cells for solar panels," said Brown. "To create these films, I will have to evaporate a variety of metals in a vacuum chamber to deposit metal seeds on to a grid. Using these metal seeds, I will grow a layer of germanium on the grid. I will study the varying effects different seed metals have on the growth of this germanium sheet."
Since the internship has started, Brown's research area has narrowed to the growth of germanium crystals on top of a nickel substrate. The nickel substrates are made using nanosphere lithography which Brown described as, "taking polystyrene spheres 456nm in diameter and making them form a pattern, then spraying nickel onto the spheres."
"We plan to use this nickel substrate to catalyze the growth of a flat germanium semiconducting layer that allows electrons to flow easily," Brown said. "This will allow manufacturers to create cheaper and more efficient solar panels."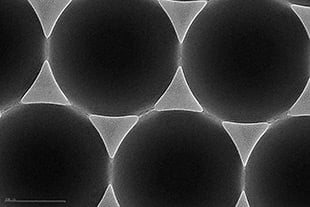 Advised by Dr. Steven Bever, Chair of the Hastings College Department of Physics, Brown looked into REUs funded by the National Science Foundation. Now at SDSM&T, Brown said he hopes to get broader experience doing research, learn how to present the data acquired in a scientific journal article and build his professional and personal network among 10 other REU participants.
"Aside from doing research, during the weekends [the other REU participants and I] get to venture into the Black Hills," said Brown. "We hiked up the Crazy Horse Monument, and we will also go to the Badlands and Mt. Rushmore, among other sites." 
By Amanda Miller, a senior from Woodland Park, Colorado majoring in journalism