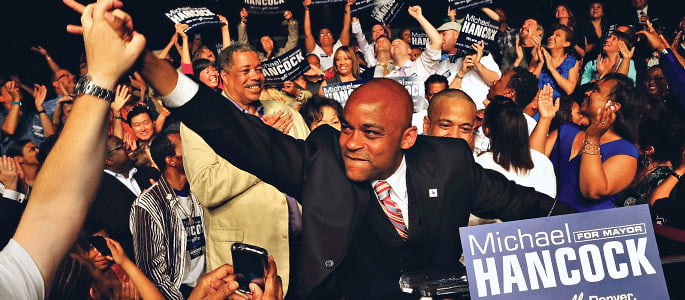 For Denver's Michael B. Hancock '91, June 8, 2011, was judgment day.  
It was the day after he was decisively elected mayor of Denver with more than 58 percent of the vote. This was the day he would have to answer to himself and to the people in Denver about the campaign he had run. For Hancock, being elected mayor was a long-time dream realized and was achieved in the only way he would campaign: with integrity and without mudslinging.
"As I used to fondly say during the campaign, my attacking my opponent will not get my neighbor a job, it will not improve our schools and it won't fill potholes. Focusing on those issues is the only thing that is going to make a difference in this campaign. It helped us lay our strategy as to how we were going to campaign, and it turned out to be a winning formula," Hancock said.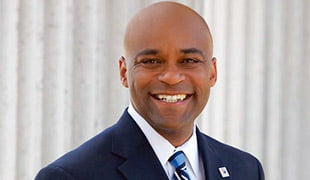 A winning formula indeed for Hancock, a Hastings College alumnus and Bronco Award winner in 1991. He started his campaign in early 2011 among a crowd of Denverites vying to replace former Mayor John Hickenlooper.
Hancock's quest to become Denver's mayor goes back decades, when being recognized for his volunteer efforts in 1985, the then-high school student boldly declared that someday he planned to be the city's mayor. When the position became available in 2010, City Council President Hancock didn't just throw his hat in the ring: he carefully considered the political, social and economic state of the city; how the responsibility would affect his wife Mary and their three children, Alayna, Jordan and Janae; and whether or not he was really ready.
Michael Hancock was sworn in as the 45th mayor of the City and County of Denver on July 18, 2011. He is the second black mayor in the city's history.
Rather than give in to the cynicism, Hancock chooses to live by his own personal motto and hope it inspires others to do the same. "Go be great. Serve with integrity. Make decisions because they are the right decisions to make, not because they are based on politics or anything that I want, and go be great," he said.
Oh, and he says he's always a proud Bronco.
Original story written by Lottie (Fryer) Nilsen '95