You may not know Hastings College student Lauren Sawyer, but you may have heard the Gretna, Neb., native on the radio. During the summer of 2013, she completed an internship with the Clear Channel Radio in Omaha, Neb., and recorded voiceovers for several commercials and public service announcements.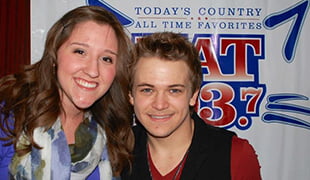 "On the first day, the production director explained his job to me and showed me a few new editing techniques, and I asked if I could practice using the software and soundboard," said the Broadcasting major.
He said yes, and within 30 minutes, Lauren completed a commercial using her new skills.
"We edited it together. I had never been more proud of a project for the radio before that because my skills had just improved three levels," she said.
Lauren's internship also included writing scripts for commercials and on-air segments and assisting with promotional events and concerts in Omaha.
Lauren credits her Hastings College courses and experiences with preparing her for the real-world experience.
"I was already familiar with the industry's software and jargon," she said. "I could write a script quickly and appropriately. Working as the news director for KFKX positioned me for success. However, that was definitely supplemented by my newswriting class and writing for the Collegian." KFKX is the Hastings College student-run radio station and the Collegian is it's student-run newspaper.
Lauren said the support Hastings College professors in the Journalism and Media Arts Department and the staff at Career Services "never fails to blow me away."