Her appreciation of the show "Criminal Minds" allowed Hastings College junior Caitlin Birk to combine her interests in psychology and criminology, which led her to an internship at a sheriff's office in Nebraska's most populous county.
Before coming to Hastings, Birk, who is from Bennington, Nebraska, knew she wanted to do something in psychology, but she didn't want to be a psychologist.
"The show 'Criminal Minds' really interested me. Then I realized I could use psychology outside of just the typical avenues," Birk said. That's what led her to criminology.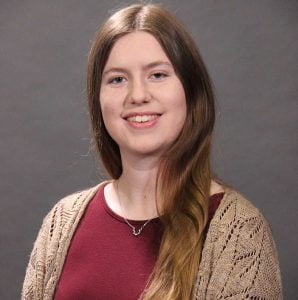 Now she majors in both psychology and criminology, but she wanted to find ways to combine the two, and realized a career in crime investigation did just that.
"You can use people's thought processes and minds to understand why certain crimes are committed or who committed those crimes. I think that's really interesting," Birk said.
In January Birk started looking into internships at local police departments to prepare for her summer criminology capstone class. Then in March, she got serious about applying with the help of Career Services and her internship advisor, Dr. Laura Logan, associate professor of sociology. Birk looked at the Hastings and Omaha police departments, but settled on an internship with the Douglas County Sheriff's Office for the month of June. Douglas County, which is home to Omaha and some of its suburbs, is Nebraska's most populated county.
During her internship at the sheriff's office, Birk did a little bit of everything. She worked the front desk and helped the community members who came in, did a couple ride-alongs and helped set up courses for officer driving training. But her favorite part was getting to work with some of the crime investigators.
"I was able to see what their job was and I was able to read through a couple of their cases," Birk said. "They were all really nice and helpful with telling me what goes on in the department. I feel like I got an insider's experience."
Getting to work with the crime investigators gave Birk insight into what they do — and how to become one. "They've just shown me more of how to get into this career, which are things that I didn't know beforehand," Birk said. Now she knows she'll have to be a deputy and may be on the road for a couple of years before she can become an investigator.
She also saw there are choices for a career that combine her passions, and her internship has helped her narrow those choices down.
"I used to think, this is your degree, this is the job you have to get. Now I have a better understanding of all the options that are available to me," Birk said.
By Ally Banks, a junior English major from Shawnee, Kansas