Hastings College student Liz Tidwell spent eight weeks in Pittsburgh, Pennsylvania, over the summer with 15 other Research Experience for Undergraduate (REU) students and 65 Undergraduate Research Program (URP) students, conducting lab experiments and research with professors.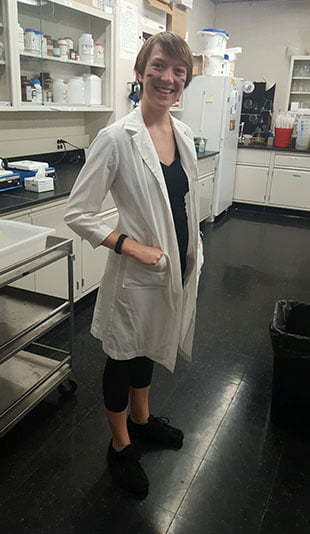 A biochemistry and molecular biology major at Hastings, Tidwell was able to work in a graduate level laboratory and experience life as a grad student as a junior thanks to the REU program. Her research focused on the conversion of the common lipid phosphatidylcholine.
"There is an incredible need for personal drive and dedication to the research," Tidwell said. "Not only did it solidify my love for science, it really showed me, and my roommate during the program, that research is truly where we want to be in the future."
Originally from Littleton, Colorado, Tidwell discovered the opportunity on the National Science Foundation's website and knew she didn't want to pass up the chance to study as a biochemistry REU student at Dubusque University, a private Catholic school.
The opportunities provided by an REU are vast, covering different scientific fields of study and opening doors for students to explore their abilities and get a hands-on experience by testing samples, working on full scale projects or designing new solutions with the support of a research team.
During the program, Tidwell worked in Dr. Michael Cascio's lab with a graduate student who was working on his senior thesis, which was focused on finding a way to better characterize the structure of the human alpha one glycine receptor.
"To do this, the grad student needed specific synthetic lipids that contain a UV activable diazirine section that could then be used to link the nearby protein sections to nearby lipids," said Tidwell. "By doing this, the location of the unstructured regions of the protein can be characterized."
Tidwell said she worked on the conversion of the common lipid phosphatidylcholine, which had a commercially available synthetic within the diazirine group, into phosphatidic acid, an anionic phospholipid that has been linked to the proper function of glycine receptors"I worked with an enzyme and designed, tested and troubleshot the creation and validation of a protocol for this conversion and verification of successful conversion," she said.
Not all work and no play
As a way to get out of the labs and encourage a bit of camaraderie, Tidwell's lab group challenged another lab group to laser tag. It gave them all a chance to break away from their rigorous lab studies.
"It wasn't particularly scientific, but it's safe to say that my lab won both rounds," said Tidwell. "It was a great way to see the graduate students, the Undergraduate Research Program students and our professors outside of the lab. Plus, one of the coolest things about these exchange programs is the people you meet."
By interacting with other students, she discovered that many of them didn't enter graduate school right after earning their undergraduate degree.
"Only one of the grad students in our lab went straight into grad school.  Most of them took time off to work, travel or even follow a different career to affirm that research is where they wanted to be," Tidwell said.
Tidwell keeps this in mind as she considers her own future goals—wanting to work towards her PhD in biochemistry, and maybe teaching one day.
By Amanda Miller, a senior from Woodland Park, Colorado majoring in journalism