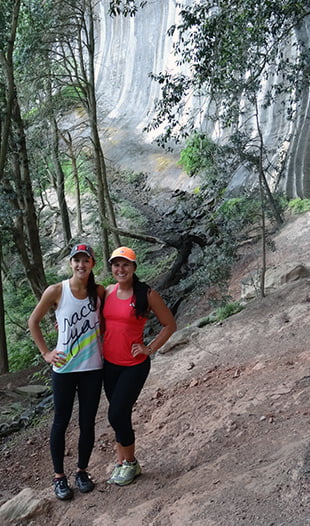 Long green grass grows in open fields, creating a lush atmosphere where wild animals roam free. Elephants, monkeys, buffalo, rhinos and lions are just a handful of the animals seen here. This is South Africa. It's fields, mountains, forests and rivers—where a diverse environment exists that is ideal for both studying animals and exploring the land.
Hastings College students experienced this first hand during a two-week trip in January Term (J-term) as part of "The Natural Biology of South Africa" class led by Dr. Amy Morris, Professor of Biology.
J-term at Hastings College provides opportunities for students to try classes that interest them – and still fulfill graduation requirements.
"It was probably the coolest thing I've ever done," said Bianca Fischer, a junior from Lincoln, Nebraska, who took part in the trip for her J-term class.
Fischer said the group of 12 in the class traveled all over South Africa, flying into Johannesburg then traveling east to Kruger National Park, stopping at smaller towns along the way. Swaziland was their next stop, which Fischer said is a third-world country inside of South Africa. From there, they traveled to St. Lucia, the city of Durban, the Drakensberg Mountains and then returned to Johannesburg to fly home.
"We went on a safari trip through the Kruger National Park where there was live game, so we got to see the Big 5 and we had a guide for that," said Fischer. "He talked a lot about the animals and had a lot of information. We went to a world-renowned glass factory and a candle factory in Swaziland. When we went to St. Lucia we went on a boat tour through an estuary so we got to see crocodiles and hippos and how they interacted."
Before the trip to Africa, students were required to write a paper in order to gain background information.
"Mine was about elephant poaching," Fischer said. "The first week of J-term, before the trip, we had class so we talked about our topics and then Dr. Morris gave us more information on different areas." The students also learned about Nelson Mandela and Gandhi before leaving, and then again while in the city of Durban.
"Although the students explored a variety of topics through research papers they write prior to the trip, the main focus of the course was to see the biological variety of organisms and ecosystems in South Africa," Dr. Morris said. After visiting Tanzania eight years ago, Dr. Morris said she wanted to return to a continent. She said she hoped the students gained awareness of other cultures and of other wildlife and ecosystems through an experience like this.
"I feel like I gained another perspective on life and how other people experience things and how they live," said Fischer. "It's a lot different than how we live in the United States. I feel like I learned a lot about wild animals – safari animals, and a lot about the African culture. You hear about things on the news but you don't really believe it until you actually see it. That was a big thing for me."
Fischer said that if anyone has an opportunity like this, they should go.
By Amanda Miller, a junior from Woodland Park, Colorado, majoring in journalism