Shortly after graduating from Hastings College in 2000 with a bachelor's degree in biology and speech communication, Charlotte (Higgins) Westing loaded her belongings in a U-Haul and headed north to start work on her master's degree at Alaska Pacific University.
Charlotte's thesis focused on wetland restoration from off-road vehicle damage. She graduated in 2002 with her master's degree in environmental science. Her first job was with the Alaska Department of Fish and Game in the Commercial Fisheries Division as the Assistant Area Manager for Western Bristol Bay.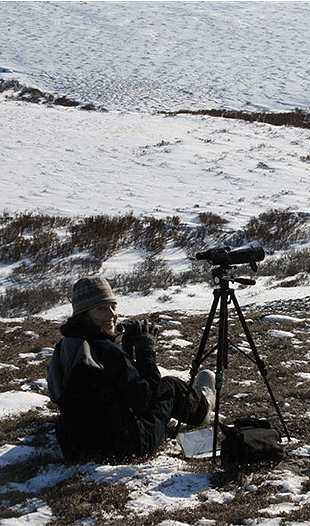 In 2008, Charlotte accepted a position as the Assistant Area Manager based in Kotzebue in northwest Alaska. The following summer, she was promoted to area biologist and is responsible for managing all non-caribou species the state manages, including sheep, bears and moose.
"My office manages the Western Arctic Caribou herd, which numbers more than 350,000 animals," she said.
She's often required to give presentations to Alaska's Board of Game, a politically appointed group that makes decisions about wildlife management in the state.
"These presentations have made me really appreciate my speech communication degree and my experiences with the forensics team at Hastings College," Charlotte said.
The real advantage of attending Hastings College, for Charlotte, was the opportunity to pursue two very different majors, biology and speech communication.
"I obviously use my biology skills every day, but a large part of what I do involves communicating with the public and my peers," Charlotte said.
Charlotte, an HC Who's Who winner, said most of her favorite memories from Hastings College involve being on the cross country team, the forensics team, a PHIVE-O member and an RA in Taylor Hall.
Her husband, Lance, is a 2000 MAT graduate. He was a Bronc Hall RA and co-captain of the cross country team. He teaches high school science and coaches basketball and cross country.
"One favorite HC memory of mine is getting up in the morning to meet my boyfriend for a run and realizing I was falling in love. It's corny, but true," Charlotte said. "I wonder how many other couples shared their first kiss on the steps of Taylor Hall."