Bever retiring after 17 years of teaching physics.
Dr. Steven Bever won a handful of prestigious awards during his time as professor of physics at Hastings College. But one award that's still due him as he prepares to retire is the unwritten "Most Hours Spent in the Science Building Award."
"I tend to live here — probably a little too much," he conceded with a laugh during a recent interview. Students past and present know it's not uncommon to find Bever in the Morrison-Reeves Science Center in the wee hours.
"He used to stay at the science center until 2 or 3 in the morning, working tirelessly to make sure he was always available to offer help for those who need it," said Lyndsay Ruane '19, a physics major now pursuing a PhD in aerospace engineering. "I will never forget the time I was stressed about an exam, so he went home and came back with his two enormous dogs just to cheer me up."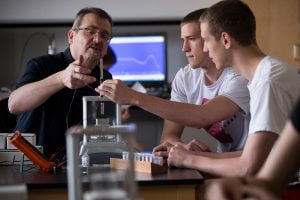 The science center was home away from home for Bever, whether he was teaching classes, preparing labs for the next day, assisting students with their intensive senior projects or helping explain difficult material or concepts. "I'm definitely a student-focused professor and a believer in direct assistance," he said. "That's where I've seen the maximum growth occur."
Bever joined the HC faculty in 2003 as associate professor of physics and was promoted to professor in 2008. He received the Alpha Chi Outstanding Faculty Member Award in both 2007 and 2018, and the 2006 Polished Apple Award for new faculty members.
"Dr. Bever was one of the best professors I ever had," said Keian Kirkegaard '07, now an SRE data engineer and technical lead at Bit Systems in Aurora, Colorado. "Steve started with Hastings when I was a freshman and is a key reason why I was so successful there and continue to be today. He had an unbelievable knack for connecting with students and always went above and beyond in everything he did."
To teach or not to teach?
The calling of educator was one Bever was hesitant to embrace. He initially envisioned teaching high school physics, but after taking a few courses and sitting in on some high school classes, he decided it wasn't for him. He left physics for a year and pursued broadcast media and music, instead.
"Then my love for physics and math kicked back in," he said. "I can identify with students who have done that — you're not quite sure, you're out of it for awhile, and then you decide, 'Nope, this has to be part of my life.' It's why I'm a firm believer in students developing a firm foundation in the liberal arts."
Bever went on to earn a master's degree in electrical engineering from Purdue University. He married wife Michele, and spent a year selling audio equipment. Then he returned to Purdue for a doctorate in electrical engineering.
"The thing that pointed me toward teaching instead of industry was that our funding dropped out from under us due to a change in the national administration," he said. "So I started teaching math classes, and I started receiving awards from my students."
Bever began to think that maybe he was cut out for teaching after all, so he applied for physics professor positions and landed at the all-male Wabash College in Crawfordsville, Indiana, where he eventually served as the chair of the Department of Physics. After 13 years, Bever departed Wabash to reconsider his career path.
"I took the tests that show you what you should be doing," he said. "And guess what. It said, 'Teacher.' "
Making strides at HC
Bever made a successful bid for the associate professor position at HC, and he and Michele made the move to Hastings, where Michele joined the staff of South Heartland District Health Department. She became the executive director in 2007.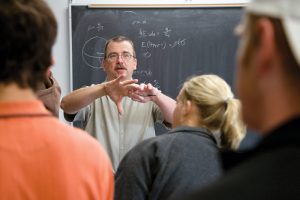 During his time at Hastings, Bever made a push for student research grants, including the NASA Nebraska Space Grant; restarted the Physics Club; revised the physics curriculum and all laboratory exercises; and supervised numerous senior research projects and presentations.
"I think one of the things I'm most proud of is seeing our students go out and have extremely successful careers, and see them have happy lives," Bever said. "I'm always happy to see when they take courses after departing, or move up in their companies or move to other companies. And I'm so happy to get notes back that say, 'I decided to go from my master's to a PhD' — it's always fun to see that."
One such note came from Dr. Jordan Borrell '13, who credits Bever for his decision to pursue a graduate degree. Borrell said his professor helped him target and define a research interest as well as search for a graduate school. Today, he has a PhD in bioengineering; he researched and developed a stimulation therapy that recovers lost motor function due to spinal cord injury.
"My research is a result of my early discussions and guidance from Dr. Bever," Borrell said. "He was a professor whose passion for teaching was evident in every lecture and demonstration. He was engaging, thoughtful, and patient with all of his students. He made learning fun and always had time to answer any and all questions. He strived to see his students succeed, even well after graduation."
Though Bever will no longer spend the vast majority of his time at the science center, he has no plans for being bored. He has some consulting opportunities, wants to resurrect an audio company he started a decade ago and is considering teaching part-time at a different institution after moving to a new town. And he may do a little research himself.
"As I've been packing up my laboratory, I stumbled across a research project I started 18 years ago at Wabash College, so I'd better finish it before moving on to new projects," he said. "I've always enjoyed student projects, and I like the idea of doing a little work of my own."
By Amy (McGraw) Palser '99