Hastings College junior Melissa Loney has spent her summer getting an inside look at what goes on behind the scenes of a major art gallery. The art major is interning with the Bemis Center, an art museum in Omaha, Nebraska.
During her time at the Bemis Center, Loney has help to organize the Bemis Center's annual art auction. During the auction, Loney learned how to handle and store art and open and close the exhibition space.
At the Hastings College Jackson Dinsdale Art Center, Loney works as part of the gallery staff, which helped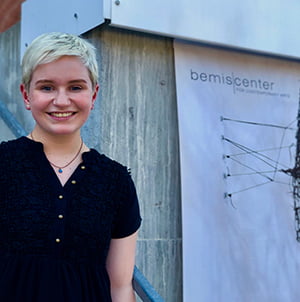 prepare her for her time with the Bemis Center. "The art department has given me a fantastic skill set that has assisted me drastically," Loney said. "My experience with art handling and interpersonal communication helped succeed in this role from the very beginning."
Working with the Bemis Center has also given Loney a chance to experience what happens on the operational side of a gallery, including working with artists and the community. It has also given her insight as to how a non-profit is run.
"I have learned about non-profit operations, art handling, exhibition creation/installation, along with the necessary administrative skill that can be applied to any career path," she said. "I have gained a new knowledge about the operations side of the contemporary art community, as well as the importance of supporting the artist in any way I am able."
Many of the things Loney learned over the summer are lessons she can take back to Hastings College and the JDAC, and she hopes her time at the Bemis Center will inspire other Hastings College students to take advantage of the opportunities the Bemis Center provides.
"As an organization, the Bemis Center has a goal of the positively serving artist and art community both locally, nationally and internationally," Loney said. "I'm an example of this; my time at the Bemis Center has made me a more well-rounded artist and helped me create lasting connections with different professionals in the art community."
By Anna Weber '18