If Emilie Barnes '17 was keeping a list of her steps to success in the publishing industry, it would be full of checkmarks.
Complete an internship with a small press in Ireland? Check. Self-publish a book of personal literature? Check. Get hands-on experience as a co-editor of a literary magazine, a chief copy editor of a collegiate newspaper and an intern with the Hastings College Press? Check, check and check.
Ironically, Barnes can also cross "find a hidden talent" off her list, as her initial educational endeavors never included a pursuit of publishing skills.
"I kind of fell into publishing by accident," Barnes said. "I was taking classes for my English major, and I ended up in the book production J-Term class my sophomore year upon the recommendation of my advisor, Dr. Constance Malloy, and Dr. Patricia Oman, director of the Hastings College Press."
A complete taste of publishing
Starting with the raw manuscript, Barnes and her classmates helped publish several of the spring releases for Hastings College Press during their three-week January Term. Each student got hands-on experience with copyediting, proofreading, page design and layout, typesetting, printing and binding.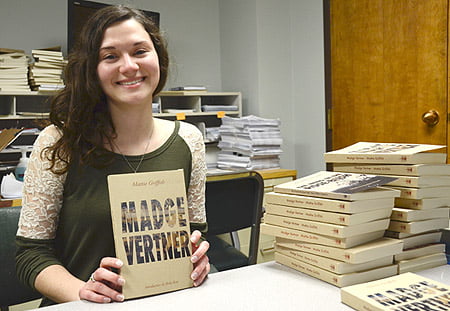 "I liked the course because I got to see all of the elements that went into publishing a book," Barnes said. "Dr. Oman explained to us how publishing students from most other colleges will only have experience in one area, but the big-picture approach at Hastings College seems like the best way to learn."
By experimenting with every step of the book production process, Barnes discovered her affinity for publishing. She enrolled in additional copyediting classes to explore her interest further, and declared her second major part way into her junior year.
Experience aplenty
Once Barnes settled into her publishing studies, she dove directly into the real-life application of her skills.
Her junior year, she accepted a position as co-editor of "Spectrum," the College's student-led art and literature magazine. Alongside fellow publishing major and co-editor Hannah Meeske '17, Barnes gained two years of first-hand experience with publication design and acquisition editing.
"Hannah and I took up 'Spectrum' after a year in which it didn't publish due to a lack of leadership," Barnes said. "We worked together to rebuild the magazine, figure out what it should look like, decide what content to include and how to bring the publication back to campus."
Her senior year, Barnes worked as the chief copy editor of the Collegian, the College's student-run newspaper. Second in command to the editor-in-chief, Barnes oversaw a weekly staff of nine other copy editors and was responsible for the final say in all copyediting decisions.
She said her role at the Collegian provided a unique perspective about the different realms of publishing.
"Whereas book publishing focuses on the elements of narrative and providing the reader with a rewarding conclusion, news writing is about relaying a story as concisely as possible," Barnes said. "Working with both styles diversified me as an editor. Because I've already gone through that learning curve, I feel comfortable applying for editing jobs at book publishers and newspapers."
Barnes' collegiate studies also included an academic internship at the Hastings College Press. The position fulfilled the senior capstone requirement for her publishing degree, while allowing her to work on "solo projects" for the first time.
Barnes used her internship to novelize "Madge Vertner," a serial story originally published in an antislavery newspaper; it was the first time the collection had ever appeared as one piece.
"I was lucky because Dr. Oman trusted me enough to take on 'Madge' by myself. It is more than 300 pages long, and I had to record and correct the inconsistencies introduced by the serial style of the story," she said. "It took me about a month, and it was definitely my biggest accomplishment — until my own book," Barnes said.
'My Conversation with Ireland'
Barnes spent one month of her senior year in Ireland, working for the Salmon Poetry and Literary Center, a small publishing press in County Clare. In her spare time, she indulged her English interests by writing poetry.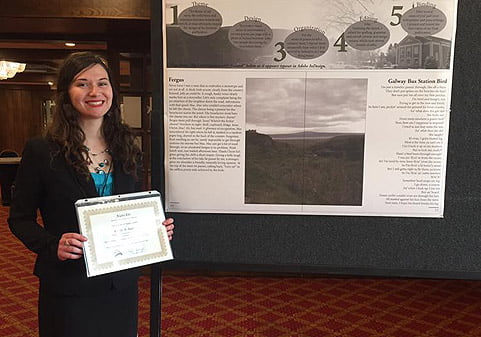 When she returned to the States, she decided to combine her poetry and publishing skills. The result was "My Conversation with Ireland," Barnes' self-published book of poetry.
"My Conversation with Ireland" became a tangible culmination of Barnes' education at Hastings College. The content, including poems and photographs, is all Barnes' original works; the design was an idea derived from her diverse experiences in publishing.
"By working with all aspects of publishing during my publishing classes and my HC Press internship, I understood how every single step of book production is connected," Barnes said. "I knew how design can impact the way the story is told, so I was able to create a conversational layout consistent with the tone of my poetry."
Barnes shared her book with the larger academic community through a poster presentation at the 2017 national Alpha Chi conference. Her work impressed many of her peers, and their positive feedback encouraged her to pursue opportunities in book sales.
"I'm someone who finds it hard to like my own work, so when people at the conference were interested in it, it was the first time I thought it could be something," Barnes said. "Since then, I've been in contact with local authors who have suggested I look into self-marketing deals and self-publishing services to sell copies on Amazon."
"My Conversation with Ireland," along with the rest of Barnes' publishing experiences, have helped her build a resume that stands out from the crowd. For Barnes, the hands-on nature of the publishing program at Hastings College set her ahead of the curve as an undergraduate in the industry.
Hastings also provided Barnes with a diverse skillset applicable to a number of careers in publishing, and she's already applied for a variety jobs — from a position as a copy editor in Ireland, to editorial assistantships at Penguin Random House.
Whatever the next big accomplishment on her checklist is, Barnes can be certain her Hastings College education has prepared her for a successful future in publishing.
By Mallory Gruben, a senior from Eckley, Colorado, majoring in journalism