As global business and marketing leader at 3M, a multinational company based in St. Paul, Minnesota, Danette Wilson Andley '01 develops business strategies in places around the world.  No matter where her job takes her, the lessons she learned at Hastings College continue to inform her work and inspire her career.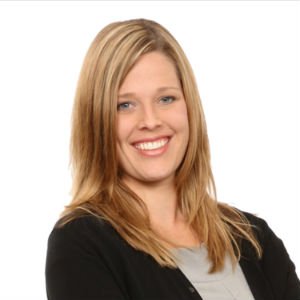 "I still refer to many of the foundational lessons such as the Four P's, the 3 C's, customer needs analysis and so many more from the marketing classes I took," she said. "In addition, the economics courses provided foundational strategic thinking that I still use today."
An employee at 3M for the past 10 years, Andley manages teams responsible for driving global business, global strategic accounts, new product commercialization, marketing communications and scientific marketing. The 3M company, which sells innovative products in five business groups (consumer, electronics and energy, health care, industrial, and safety and graphics), has global sales of more than $30 billion and sells products in nearly 200 countries.
"I love the global nature of my job," Andley said. "It's very rewarding to help countries develop growth strategies."
A Wray, Colorado native, Andley graduated from Hastings College Summa Cum Laude with high distinction in marketing in 2001. She earned her MBA in marketing and strategy from Olin Business School, Washington University in St. Louis in 2007, and launched her career at 3M with an internship after her first year of business school.
Paying it forward
As an undergraduate, Andley was secretary of the Student Association, president of Alpha Phi Sigma sorority, a peer health educator, a resident assistant at Babcock Hall, Homecoming Queen and a member of Omicron Delta Kappa leadership honorary. She was one of only 19 graduating seniors named to Who's Who.
Andley's positive experiences as a student and campus leader have inspired her to support current Hastings College students through the Experiential Learning Fund of the Dudley-Doerr Society. The fund helps prepare business and economics majors through experiences outside the classroom, including internships, undergraduate research and entrepreneurial ventures.
"Hastings was incredibly influential in my education and sparked so much desire for lifelong learning," she said. "I believe in experiential learning and want more students to have that opportunity."
Andley is also enthusiastic about her work with the 3M Women's Leadership Forum, which recruits and develops leaders at every level to accelerate the inclusion and advancement of women globally. She serves as U.S. Chair of the forum.
 "I'm incredibly passionate about advancing women and the experience they have in the workplace. Our society has a long way to go to increase the number of women in executive leadership positions and serving on boards," she said.
By Jake Konen, a senior marketing major from Hastings, Nebraska