Giving back has always been at the heart of Pacha Soap, a Hastings-based bath products manufacturing company founded by Andrew '12 and Abi '13 Vrbas in 2013. Each bar of artfully-crafted soap they sell, with funky names like Dirty Hippie and Feel the Beet, supports clean water initiatives, small businesses and hygiene education in developing countries around the world.
It's no wonder then that Pacha Soap has stepped forward during the coronavirus pandemic to help solve the hand sanitizer shortage and protect front-line workers. Calling their campaign "We Got This," Pacha Soap and a team of volunteers are filling 18,000, 12-ounce bottles of ethanol-based hand sanitizer and distributing them at no cost to hospitals, nursing homes and first responders.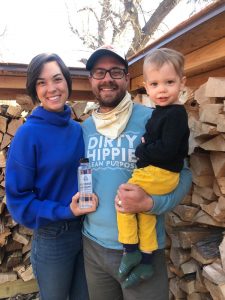 "We Got This has three facets," said Andrew, recipient with Abi of Hastings College's 2017 Young Alumni Award. "The first is a limited supply of hand sanitizer to front-line workers. Second, bars of soap are distributed to places that need them. Third, people can buy self-care kits online for hospital workers or anyone who is struggling or working long hours."
The project began when Mary Lanning Healthcare in Hastings contacted Vrbas and asked if he could produce hand sanitizer, a once common household product now elevated to life-saving status. A group of Hastings businesses worked with Vrbas to quickly transform the empty Bimbo Bakery building into a makeshift production facility. Residents from Bristol Station, a residential reentry center for probationers and parolees, volunteered to help.
Workers have already filled several thousand bottles, with the initial supply delivered to Mary Lanning Healthcare and other shipments to hospitals and first responders in COVID-19 hot spots like New York, Florida and Washington state. While the hand sanitizer is provided free of charge, Andrew asks that recipients consider making a freewill donation per 30-bottle case to the Hastings Community Foundation's Give Hastings Day on May 7.
Additionally, for every bar of soap purchased through its website (pachasoap.com), Pacha is donating a bar to communities in need across America.
The Vrbases were inspired to launch Pacha Soap, a company with a mission of "spreading goodness around the world," after a trip Andrew took to Peru his sophomore year at Hastings College. Since then, he and Abi have hired a team of 70 employees (including several HC alumni) and built an impressive online and retail distribution network. Last year, Pacha Soap partnered with Whole Foods and now sells its products in 3,000 stores across the United States.
Whether the company is producing aromatic soaps for leisurely baths or hand sanitizer for medical professionals in the midst of a pandemic, Pacha Soap demonstrates the power of business to create products and jobs while also serving the greater good.
"I love the idea that business can be used as a tool to accomplish a lot of things," Andrew said. "It can be used to create wealth, livelihoods, products that people like and need, even opportunities for people who may not have had them. We've used our business to spread sanitation and hygiene all over the world, mostly in East Africa. It's neat to be able to step up at a time like this and provide for people in the United States."
By Judee Konen '85, Associate Vice President for Advancement