The play "Strong City" is full of Hastings College alumni.
"We're doing a sort of renegade reunion," the writer of the play, Paige MJ Erickson '00, said, as the director and almost all of the cast are alumni. Cast members include Amber Wormington '00/MAT '05, Tim Steffensmeier '97, Carly Spotts-Falzone '19, Miranda Miller-Klugesherz '15 and Nancy Koch '02, with Darren Epping Fuentes '04 directing.
Almost the entire cast were also members of the Forensics team, which is how many of them met and stayed connected after their time at Hastings College.
Erickson started writing plays during her time at Hastings College, after urging by her then writing professor and now Executive President Dr. Rich Lloyd '85. Yet, "Strong City" is her first play in 20 years. For the last 12 years while teaching for Purdue University Global, Erickson has been traveling around Europe. Then in 2020 she was sent home because of Covid-19.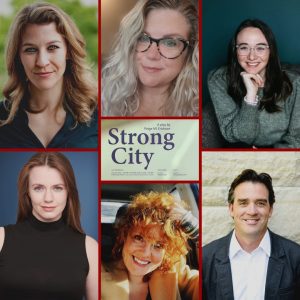 "When I came home, I decided I needed to do stuff that kind of scared me. I knew I was just going to have to keep doing different things until I came back to writing. I knew in my heart that that was a really important part of who I am," Erickson said.
The inspiration for "Strong City" came from Erickson's travels in Europe and also from her love of both rural and urban areas. Together they allowed Erickson to create a story about going home. "Overall it's about finding a sense of purpose. I think that's a much harder thing than people seem to want to communicate. I feel like a lot of people know it's hard; you've got to find something to live for, find some meaning," Erickson said.
"Strong City" follows Andrew, estranged from his ranching family but soured on life in the city, as he encounters upbeat do-gooder Liesl while on his way home to Strong City, Kansas.
Through the unlikely duo's road trip across Colorado and Kansas, and with the help of Andrew's mother, sister and ailing father, Andrew and Liesl discover that the answers to their biggest questions have always been waiting in the calm of the Kansas Prairie.
In January 2021, she held her first reading of "Strong City." Of the current cast members Steffensmeier, Wormington and Spotts-Falzone were a part of this first reading. Erickson used this opportunity to actually hear the play since she found it hard to get a sense of the play when she was just reading it. During the reading she found that she had left out the main character from almost the entire second act. After working further on the play, Erickson held another reading in December 2021, which she believed to be a much sharper version of the play.
Erickson knew exactly who she wanted to cast for her play.
"I wanted it to be a sort of Hastings reunion," Erickson said. She had all plenty of connections from her time as a forensics competitor, and then her time as coach. Wormington, Steffensmeier and Koch all competed on the Hastings Forensics team with her. Erickson met Spotts-Falzone when she came back to campus to do a reading of her book, "The Nice Thing About Strangers," and she had seen Miller-Klugesherz at competitions, but it was Spotts-Falzone who actually introduced the two. Erickson knows Zac Ralston, the only non-alumni in the show, from her time at Kansas State University for her masters degree.
While Erickson was happy to make the play a reunion, she recognized the struggle that doing so presented.
"Half of my cast has kids, and everybody has a full time job. If we were going to do a traditional play, where we have three months, no one could do it," she said. Instead, they decided to meet up when they could online, memorize lines on their own and then the day before the first show they would show up and block everything out.
"It's just really hard to make it work, but we're gonna make it work," Erickson said.
Everyone a part of the show has been longing to use the creative skill they learned during their time in forensics, but more than that, they're all excited to see each other again. "I think I'm going to just cry my eyes out when I see these people on stage. It's so moving to see these performers again," Erickson said.
"Strong City" will have three performances at Kansas State University's Purple Masque Theatre (780 Denison Avenue, Kansas State University, Manhattan, Kansas). Two of these performances will take place on Saturday June 25 at 1:00 pm and 7:00 pm, and the third on Sunday, June 26 at 1:00 pm.
By Ally Banks, a junior english major from Shawnee, Kansas