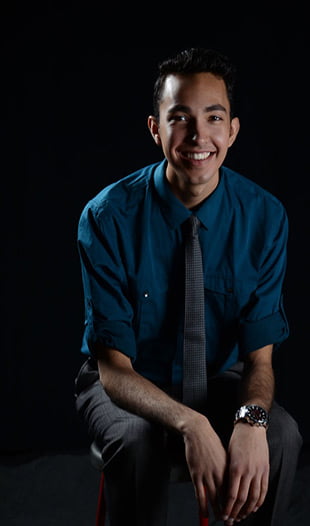 What began as a venue built in 1878 for the local miners, the Central City Opera House in Central City, Colorado, continues to be put to good use today. With walls made of four-feet thick native stone and granite slabs, and original painted Pegasus images and ceiling mural, the building can provide 552 locals and nearby Denver residents escape during each show while a crystal chandelier hangs above them and a cool mountain stream runs underneath them.
Tyler Donovan, a senior at Hastings College, is immersing himself in the Central City Opera's history. With 13 other students and graduates, he is interning in this mountain town—population 685.
"From what I heard and read on their website, I got the feeling that the interns were really important to the company and gained hands-on, pertinent experience to their individual careers," Donovan said. "I was also really intrigued by the history surrounding it, which in itself gives off a really unique aura, especially for an opera."
Donovan is spending his summer here to gain credit for both his theatre and advertising/public relations majors. It's a great fit for his long-term goal: to promote theatre through public relations and marketing.
"I'll mainly be responsible for the upkeep of the website and uploading blog posts," said Donovan. "I'll be making sure that informational opera flyers and brochures are distributed to nearby casinos and towns, announcing any upcoming events on social media, relaying any necessary public relations information to cast and crew, communicating with the press by arranging interviews for the Denver Post and the radio—a lot of things like that. Then I have to make sure I do recital programs and brochures as well as usher for the shows."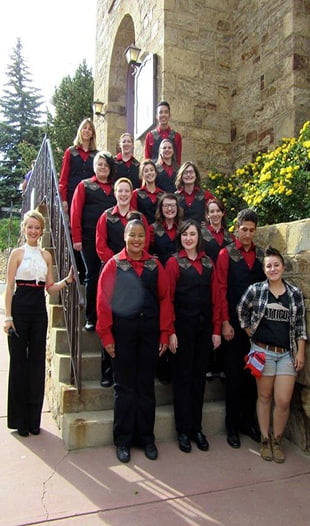 Donovan has already built
a foundation of experience inside an opera house. Last summer, he worked as an intern at the Des Moines (Iowa) Metro Opera as the properties department intern.
"I worked in a shop all day, every day and really honed my skill in detailing, designing and building props," he said. "On the job, I also really didn't interact with anyone else besides my crew and the stagehands."
Donovan said it was a humbling experience being surrounded by so many professional artists and designers, and he gained additional professional practice in running a show from the props standpoint.
In contrast, spending his summer at Central City Opera means interacting with the public—donors, singers, community members and tourists. His internship is representing the company and promoting the season.
"I'm going to learn a lot about marketing for a business this summer," Donovan said. "I hope to sharpen my writing skills, learn how to better market live theatre and how to make a unique art form such as opera appealing to diverse audiences."
Donovan plans on using his design background to explore different avenues of marketing for the opera.
He said, "Incorporating these views will be a must in learning to draw a public in that may not otherwise realize what goes into the production of full-scale operas and live theatre."
By Amanda Miller, a senior from Woodland Park, Colorado majoring in journalism