After graduating from Hastings College in 2006, Uzo Akotaobi had no idea where he would go. He just knew he needed a job in human resources where he could devote his career to building strong organizational cultures by empowering diverse groups, developing strong leaders and welcoming concepts of equity, diversity and inclusion.
Originally from Denver, Colorado, Akotaobi, a self-described "HR nerd," spent 14 years working in human capital management and operations. Earlier this year, he took a new job, serving as the head of People and Inclusion at Glowforge in Seattle, Washington, where, according to him, "This is the first time I've ever been number one."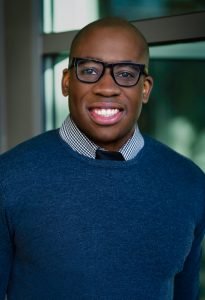 According to Akotaobi, human resource management goes beyond firing and hiring.
"My job is about taking diverse people and placing them in positions that leverage their strengths and allow them to be their authentic selves. In businesses, you have to hire for what you can't teach, and the best way to do that is by bringing in people of diverse backgrounds," he said.
As he grew his career, Akotaobi earned a master's degree in human resources from Villanova University. After graduating, he settled and served as the vice president of HR for Prologis, a longstanding pioneer in logistics real estate.
While Akotabi enjoyed the work, he wanted opportunities for growth where he could focus more on what mattered to him. "I want to create an environment that thrives on authenticity. I want to inspire people to start conversations around changing systems," he said.
The former human resource, human services administration and sociology triple major acknowledged that his experience at Hastings College equipped him with two necessary tools to succeed: critical thinking and patience. "Hastings College is where I've learned patience for people," Akotaobi explained. "Beyond that, my ability to think in-depth serves me well within the business community."
When asked what diversity and inclusion mean to him, the former track athlete responded, "Diversity is often focused as something we can see. There is more to our individual diversity than just that. Inclusion, on the other hand, is when people can come as their authentic selves."
Throughout his college years, Akotaobi said he had many enriching experiences where he learned to communicate effectively across cultures. He attributes his strong work ethic to his continuous efforts to learn and master his craft.
By Kianté Stuart, a junior from Nassua, The Bahamas, majoring in communications studies and business administration.