Hayden Jones' mental and physical toughness was tested with days beginning at 4:00 a.m. for his Division I strength and conditioning internship. But he felt prepared tackling the long 12-hour days.
Jones, a 2018 Hastings College graduate and current Master of Arts in Teaching student, reported in late May at the same time the University of Texas football team reported for pre-season training. Players endured intense practices and workouts every day. Shortly after walking across the stage at graduation in Hastings, Jones traveled to Texas where he assisted the head football coaches throughout the summer.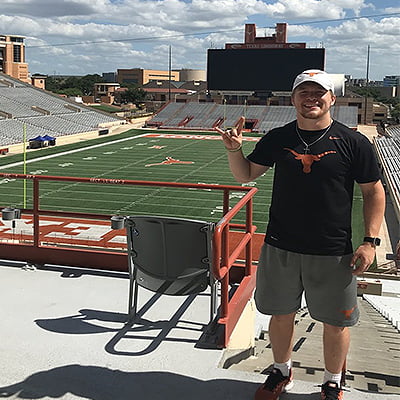 Among his responsibilities was conducting weigh-ins for the team, which gave him the opportunity to know every player's name and background. He reported to the head coach every morning to discuss the day's plans as the football team came in ready for their required hydration test, and he assisted in the weight room.
The internship provided an advanced learning experience for Jones, which he said he applied to his daily life.
"'Don't be a cone.' And that means don't stand there and do nothing," Jones said. "Always be prepared, don't be afraid to ask questions and get out of your comfort zone."
Jones credits the internship with the University of Texas to his exercise science instructors at Hastings College, and also Kim Graviette, Director of Career Services.
"I wouldn't have received this internship if it wasn't for Kim Graviette," Jones said. "She helped me improve my resume and my cover letter. I would tell any student to go to Kim for help even if you think you have the best resume ever, because she'll make it even better."
The internship reinforced his goal to be a strength and conditioning coach for a college or university. Today, you'll find Jones on campus in Hastings as a graduate assistant and a strength and conditioning coach for three Hastings College athletic teams. He also assists with training for the Hastings College football team.
"My ultimate goal as a strength coach is for students to develop into better person, not just an athlete. I want students to be confident mentally and physically, and leave Hastings College as a great human being," Jones said.
Jones is currently working towards his Master of Arts in Teaching (MAT) degree, while also working toward earning two more strength and conditioning certifications.
By Dany Cook, a senior from Fairfield, California, majoring in journalism and broadcasting