From his first day at Hastings College in 1960 as a "24-year-old kid with a crew cut," to this past January Term as a seasoned educator, Dr. Clyde Sachtleben has spent most of his life as a Hastings College professor of physics.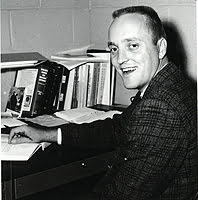 Even after his retirement from teaching in 2001, he returned to the College year after year to instruct a J-Term course that fueled his passion in a place that bears his name: "Intro to the Night Sky, " an astronomy course that included class visits to the Sachtleben Observatory just south of town.
But this January was different. It marked the official conclusion to his 57-year career at Hastings College. He decided it was time to fully embrace retirement.
Sachtleben has had a profound effect on the College and his students. He was an instructor and mentor for the 20 students enrolled in his J-Term course this year, and hundreds of other students along the way. With nearly six decades as an HC professor under his belt, he has a rich history as a Bronco.
A spark of passion
Sachtleben's journey to Hastings College began when he discovered his passion for teaching while working one hour each week as a physics tutor in graduate school.
"One week, I had five students who came in to ask questions. The next week, the same five students were back. And the next week the same five came back again," Sachtleben said. "The fourth time they came, I asked why they kept coming in, and I remember them saying, 'well when you explain it, we can understand it.' That was the key."
He decided to become a professor, and in 1960 he applied for an open position at Hastings College and was accepted. Just three years later, Sachtleben began a new chapter as the chair of the physics department, a position that would allow him to create a meaningful relationship with the institution and his students.
Building a department
Sachtleben is often associated with his fellow physics professor, the late Dr. Carl Throckmorton, as the major contributors to the growth of the Hastings College Physics Department. When Sachtleben first arrived at the College, the department received $200 each year for its operating budget. By the time he retired, the physics department offered a refined curriculum and equipment comparable to graduate programs and research labs.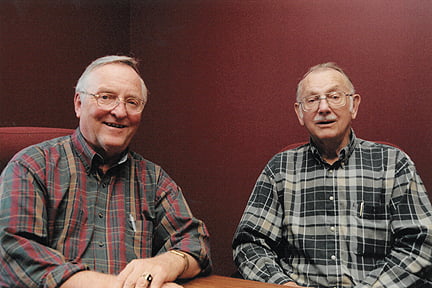 "Once, when we went to Bell Labs in Chicago, they showed us a relatively new technology, not expecting us to know it. After the demonstration, one of my students said, 'We just did that experiment last week at Hastings College,''' Sachtleben said.
He also played an influential role in establishing the astronomy program at HC. The current observatory bears his name as recognition to his contributions.
"Clyde's the guy who got it started in 1978 with the first observatory that was originally on Hastings College campus," said Dan Glomski, program director for the Sachtleben Observatory and a close colleague of Sachtleben. "Without his support on the second one, I doubt it would have gotten here."
Sachtleben didn't accomplish these feats alone, though. From Throckmorton, his right-hand man and fellow physics professor, to the maintenance staff that helped with equipment repairs, he never forgot to thank the people who supported him on his way.
"I had a support system. I had Carl Throckmorton, Alene Tanner (then the department's administrative secretary) and the College's maintenance department," Sachtleben said. "I was extremely fortunate to have this support."
Sachtleben also said he was fortunate to draw upon other professional experiences that inspired his work as a Bronco. During his career at Hastings College, he had the opportunity to teach for six summers at the University of Nebraska–Lincoln, and for 25 summers at the University of Colorado Boulder. These experiences, he said, introduced him new ideas, demonstrations and information he could employ in his teaching at Hastings College.
Students bound for success
Sachtleben was always glad to return to the Hastings College environment in the fall where he knew all the students in his classes and enjoyed watching their progress. One accomplishment he proudly highlights is the success of his former students.
"Students that appreciated what I did, went on to succeed and then came back to tell me thank you," Sachtleben said. "That's all a person needs. If I didn't have the students coming back to see me, it would be a different life."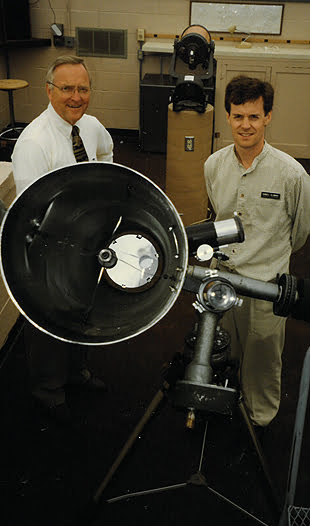 From chairs of physics departments at notable universities, to lead researchers, to NASA astronauts, "Doc S" has instructed dozens of successful Hastings College graduates.
"Doc S became my mentor at Hastings College. When I interviewed to become a NASA intern, the interview was done over the phone in his office," said Clayton Anderson '81, a retired NASA astronaut. "He was a great instructor, and he has been of tremendous value to me as an engineer and astronaut."
Sachtleben's students built off of the foundations they established while in his classroom. He was a dynamic and engaging educator and, just like his graduate peers noted long before he began at Hastings College, he was known for making complex topics easy to understand.
"The astronomy course he taught was geared toward non-science majors, so one of the challenges of the course is teaching a broad range of students," Glomski said. "Clyde was really good at that because he gets on their level to get them involved."
Sachtleben is also a big believer of demonstration-based learning. Anderson said he invited students to his home to play billiards or ping pong as a lesson in physics. He even helped lay the groundwork for the current senior seminar program.
"The structure, culture and philosophy of lab directed learning that is still in place in the physics department today was started by Clyde Sachtleben and Carl Throckmorton," said Dr. Jim Dugan, retired chair of the Hastings College Physics Department. "Our seniors have been doing senior projects since 1978, so the Hastings College Physics Department was ahead of the curve on that kind of learning experience."
Retired, but not gone
Sachtleben's capabilities as a teacher secured him a position at HC long after his official career ended. Shortly after his retirement in 2001, he was asked to return to teach "Intro to the Night Sky," the J-Term astronomy course. He received the same request every year for the last 15 years.
Although 2017 is the last year Sachtleben will serve as a formal instructor at Hastings College, his role as an Bronco mentor will not end.
"Retirement and Sachtleben don't really go together. He will still find a way to educate people, and he will still be an asset to Hastings College," Anderson said. "It's indicative of his passion for educating that he retired 16 years ago, but continued to teach the J-Term course."
Sachtleben will enjoy the rest of his retirement with his loved ones. After a 57-year career spent caring for Hastings College and its students, it is well deserved.
"I have very fond memories of Hastings College," Sachtleben said. "I'm lucky to have spent my life doing something that makes me happy."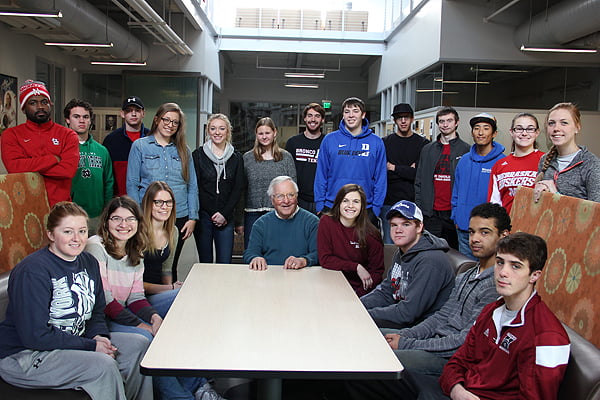 By Mallory Gruben, a junior from Eckley, Colorado, majoring in journalism