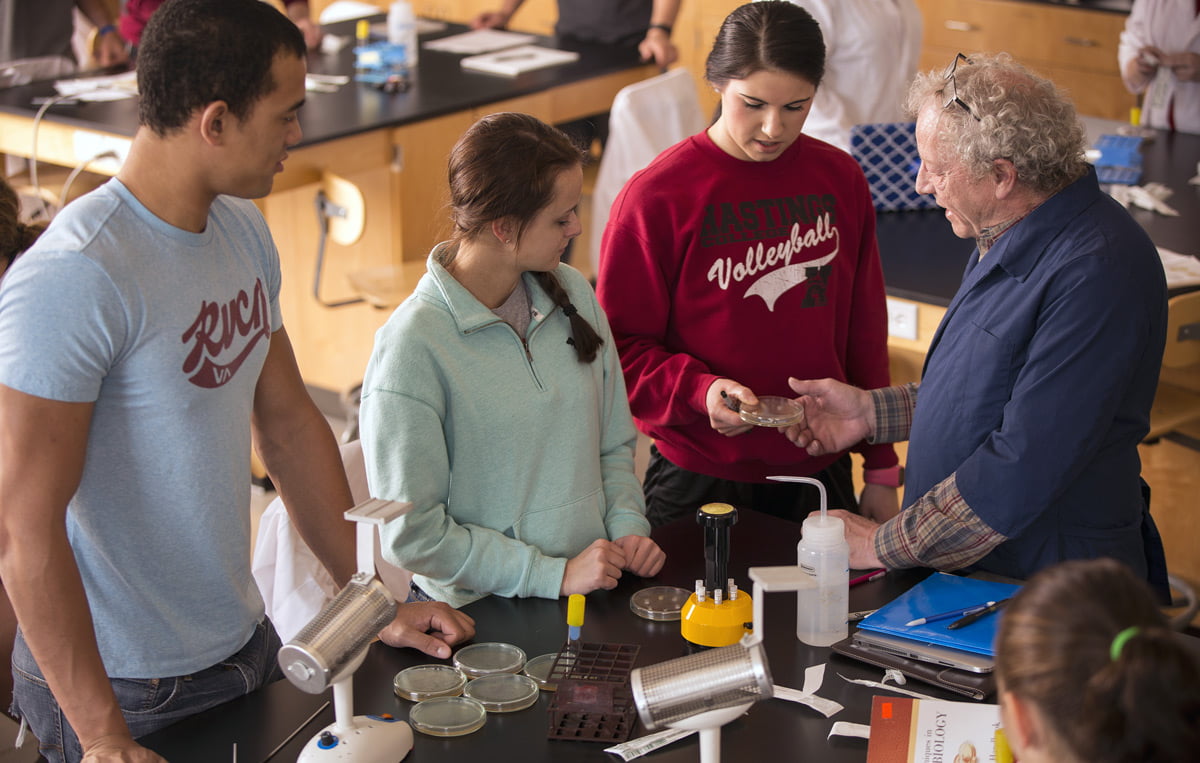 Dr. John Bohmfalk has a special knack for adding heart to the rather analytical world of biochemistry.
His joyful, compassionate temperament, enthusiastic teaching style and occasional eccentricities have helped decades of Hastings College students navigate the complexities of life-focused sciences — and life itself.
"Dr. Bohmfalk was a professor, a father and a friend to me," said Becky (Carter) Goodrick '01, who heads the chemistry and physics department at Pinetown Boys High School in Durban, South Africa. "He always smiled and waved at everyone passing by. He was passionate about the College and developing the next generation of scientists. I learned so much from him, both in and out of the classroom."
After 26 years at Hastings College, Bohmfalk will send off his final group of future scientists with the class of 2019. The longtime professor is set to retire at the end of this month.
"That just seems like an incredible amount of time that all went really quickly," Bohmfalk said. "But I just can't imagine having done anything else with my life that would have been as fun and as interesting and as challenging as this is."
New homes
Bohmfalk joined the Hastings College faculty in 1993. Almost immediately, he and his late wife Pam decided to settle down in the area.
Their decision to stay would turn into long-term careers for the couple: Bohmfalk as a biology and chemistry professor, and Pam as a librarian.
Bohmfalk quickly integrated himself in the college and community, serving on scholarship, internship and new faculty search committees, community volunteer groups and the Hastings College Faculty Senate. He was president of the Senate when the College announced plans to build a new science facility to replace Steinhart Hall.
"In addition to being a faculty member in the building and having an awful lot of meetings and talks about how we wanted it to look, as faculty Senate president I got to be on television multiple times," Bohmfalk said. "I even got to do a press conference about the new building. That was fun."
Having a chance to help design the Morrison-Reeves Science Center was especially rewarding because it allowed Bohmfalk and his peers to play a role in enhancing the classroom for students. With the new building came more space, new laboratories and modern equipment.
While building the science center was "a big deal, and a major milestone at Hastings College," Bohmfalk said an even more rewarding part of his career was the students.
'I wanted to know my students'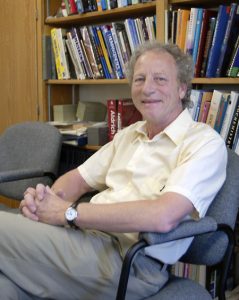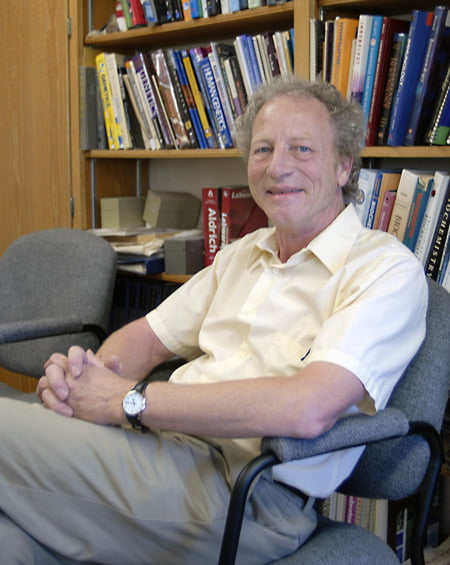 Although he'd taught at a large university earlier in his career, Bohmfalk said he was drawn to Hastings College because it was a small, liberal arts school — much like the college he attended as an undergraduate.
As a student, Bohmfalk valued the personal relationships he fostered with his professors, including his mentor from the University of Texas Medical in Galveston.
"That kind of relationship with students was important to me because it was important to me when I was a student," he said. "I wanted to know my students, and I wanted to have a chance to impact them in a meaningful way."
In the classroom, Bohmfalk's goal was to develop in his students a deep understanding of biology and chemistry by meeting them at their own level.
"Dr. Bohmfalk had an innate ability to make everything understandable, from simple biological principles to molecular assays like polymerase chain reactions. He was able to bring it down to the level of a student and explain things in layman's terms," said Ross Miller '04,  a forensic pathologist and medical examiner for the State of Oklahoma.
Bohmfalk's lessons were as memorable as his "epic curly hair," Miller said. Even 15 years after attending Hastings College, the alumnus said he remembers many of the practical examples his professor used to cement what students learned in class.
"One example that pops into my head almost immediately is a lab we did with asparagus. A qualitative way to see if we have the enzymatic machinery capable of digesting and metabolizing the asparagusic acid in asparagus was to smell our urine. If we had it, our pee smelled funky. If we didn't, the urine smelled as usual," Miller said. "Nothing like making college students smell urine to make it memorable."
In 2000, Bohmfalk was awarded the Vondrak Outstanding Advisor Award. Two years later, he earned the title of the Richard B. and Dorothy K.Tickler Distinguished Professorship in Science.
"John is passionate about genetics and biochemistry and has a deep love of what he does," said Dr. Amy Morris, Hastings College Biology Department chair. "Many times he has stepped up to the plate to cover courses for biology and chemistry to make sure HC had appropriate course offerings."
Morris said her long-time colleague is as passionate about the courses he teaches as he is about his students.
"I have spent the last 18 years in awe of how much he cares for his students and their success," Morris said. "He will be missed, and he will be hard to replace."
Christmas gatherings
Bohmfalk's care for his students didn't stop in the science center. Every year since the early 2000s, he's invited his students to his home for a holiday gathering.
"It's a wonderful event for students who may have been far away from home and not able to participate in their family's holiday traditions," Morris said.
Just a week before finals, Bohmfalk's Christmas party provided students with a spread of snacks, homemade hot cocoa and the chance to "hang out and relax" before their tests, he said. The only requirement to attend: You must hang at least one ornament on the tree.
Whether it was in his home over the holiday season, or in his lab coat in Morrison-Reeves, Bohmfalk spent his time as a professor molding students for their future successes. Each student's journey is a fond memory, he said.
"Because the college is small and because you can have students in multiple classes over their four year at Hastings, you can see how people grow and change over their life in college," Bohmfalk said. "That's been the most rewarding: The number of students I have interacted with. So many students who have graduated I consider friends."
Bohmfalk is active on Facebook, and he said he tries to keep up with former students. Although he'll be retiring and embarking on new journeys — including traveling more — he said he'll never be more than a friend request away.
By Mallory Gruben '18