Cliff Bosley was only 12 in 1979 when he and 2,700 other runners hit the pavement in the first BOLDERBoulder, the iconic Memorial Day 10K founded by his father, Steve, with the encouragement of marathon runner and Olympic gold medalist Frank Shorter.
In May 2019, Bosley (now 52) celebrated his 21st year as race director of BOLDERBoulder, now the third largest running race in the United States and the seventh largest in the world. Named America's All-Time Best 10K by Runner's World magazine, the race attracts nearly 50,000 professional and amateur runners, joggers, walkers and wheelchair racers from all 50 states and 15 countries. Thousands of cheering spectators line the streets of Boulder and fill the stands at the University of Colorado's Folsom Field, the finish line and site of a spectacular Memorial Day Tribute.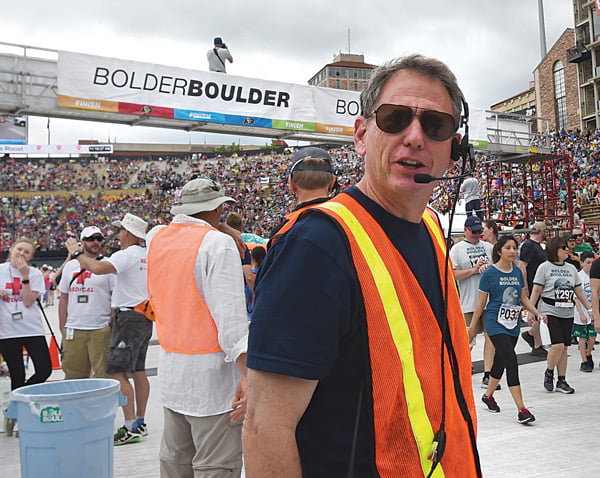 This past spring, Running USA named Bosley to its Hall of Champions for directing and coordinating one of the most festive and highly-acclaimed running races in the world. The award was announced at Running USA's annual conference in San Juan, Puerto Rico.
"Dave McGillivray, race director for the Boston Marathon, did my induction," said Bosley, a 1990 Hastings College business administration graduate. "The Boston Marathon is just legendary, so to have Dave announce the award is a pretty big honor."
Bosley shares his Boulder offices with a full-time staff of five, including Maddy Peavy '12, who handles logistics and operations. Posters from past races, enormous graphics of runners and inspirational phrases (including BOLDERBoulder's battle cry, "Oh Yes You Can!") line the walls. As Bosley directs his staff and answers calls, he comes across as earnest and energetic, meticulous and visionary, humble and driven—traits that make a large and complicated event operate like a well-oiled machine.
"What makes the BOLDERBoulder remarkable is how smoothly it goes off for such a massive gathering of spectators, runners, walkers and elites," writes Mike Sandrock in Colorado Runner magazine. "The BOLDERBoulder is like the Flatirons: something large and beautiful that we may take for granted."
One could easily add "innovative" to the list of accolades, a trait ingrained in the culture of the organization. For example, instead of one enormous start with thousands of runners taking off at the same time, the BOLDERBoulder divides participants into about 100 waves, an innovation created and perfected by Bosley's father.
"What's unique about the BOLDERBoulder and the way we organize the day is that we run the fastest of the masses first all the way to the walkers. That's more or less the 50,000 who come to run," Bosley said. "Once they're in the stadium, we run a professional women's race and a professional men's race, eleven minutes apart. We take video footage of that and show it in the stadium."
Even people who jog or walk can complete the race and be in the stadium, drinking a beer or soft drink, and watch the pros race and cross the finish line. Given the caliber of world-class runners the race attracts, that's a sight to see.
"Over the course of the 41 races, more than 110 Olympians from 24 different countries have raced the BOLDERBoulder," Bosley said.
A day of festivities, patriotism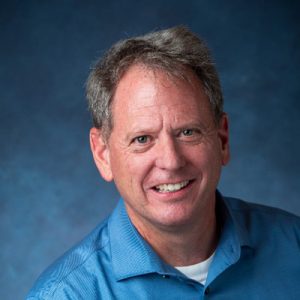 Under Bosley's direction, the BOLDERBoulder has evolved into a full-fledged entertainment event. The personable race director, who donned a blue blazer to give campus tours for the Public Relations Council as a Hastings College student, wants every participant to have a great time, whether they're pros competing for prize money or joggers looking to have some fun.
"There are folks who run from the front and are excited about their race times, and there are folks who are more excited about the time they have. So they enjoy the Slip'N Slides, bands, hanging out with belly dancers and sampling bacon. It's just awesome," Bosley said.
A serious and respected race, the BOLDERBoulder definitely has a wild and crazy side. Amateur runners dress as Batman, ballerinas, hot dogs, rock stars and pirates. Entertainers of all sorts line the course: an Elvis tribute act near mile two, belly dancers at mile three, Brazilian drummers at mile five, bagpipes at mile six. Thirty-five bands ranging from ska to blues to psychedelic rock are staged every 350 yards. Boulder residents set up Slip'N Slides in their front yards and beckon runners to hurl themselves across. Others hand out goodies like bacon, marshmallows and Doritos.
When the runners cross the finish line at Folsom Field, the cheers of 50,000 people greet them.
"It's an unbelievable experience," said Matt Fong '05, associate vice president for external relations at Hastings College and six-time BOLDERBoulder participant. "I look forward to the race every year. It's so fun to see people cheering for you around every corner. I always 'run' into some other Hastings College graduate or student, too."
The grand finale of race day is the Memorial Day Tribute at Folsom Field recognizing the men and women in the U.S. military who gave their lives in service to our country. In a 20-minute program of patriotism and pageantry, BOLDERBoulder honors Congressional Medal of Honor recipients and families of fallen soldiers. More than 100 young men and women take their oath of enlistment and are sworn in before the stadium crowd. The University of Colorado NROTC performs a 21-gun salute. The crowd sings the national anthem and two F-16s from the Colorado Air National Guard do a fly over.
"The high point is when seven skydivers escort flags into the stadium," Bosley said. "The first five escort flags from the military branches and the last two escort POW and American flags. That's the culminating event."
An evolving brand
Since becoming race director more than two decades ago, Bosley has continued to reinforce the BOLDERBoulder brand by launching the FORTitude, a Labor Day 10K in Fort Collins, Colorado, and the ColderBOLDER, a 5K in Boulder each December.
In 2006, Bosley's sister, Elizabeth, a member of the BOLDERBoulder team and former U.S. Navy officer, created the BOLDERBoulder Baghdad Memorial Day 10K. A reservist, Elizabeth connected with soldiers from her unit stationed at Camp Victory in Iraq. The BOLDERBoulder sent a "Race in a Box," including bib numbers, shirts and race items, overseas so service members could run their own BOLDERBoulder on Memorial Day.
Every Memorial Day since then, while runners race through the streets of Boulder, service men and women run in satellite races at U.S. air bases around the world, including the deserts of Kuwait, Iraq and Afghanistan and even at sea aboard the U.S.S. Nimitz. To date, more than 25,000 military men and women have run in BOLDERBoulder base races.
BOLDERBoulder also sponsors the BB Racers Club, an after-school program promoting health and fitness for middle-school youth and elementary children across Colorado. The runners, along with teachers and families, prepare and train during the school year and converge on Boulder on race day. About 1,300 students participated in 2019.
Bosley stays involved with his alma mater by serving on the Hastings College Foundation Board of Trustees and hosting student leadership groups at BOLDERBoulder headquarters. His daughter, Holly, is a Hastings College sophomore and soccer player.
No matter what Bosley does, he does it with gusto and an unwavering commitment to quality.
"Our team objective is to stay in the top five largest races in the country and the top ten largest in the world," he said. "But let's have the acclaim come from doing it the best."
Bosley and the BOLDERBoulder team deliver on that promise.
By Judee Konen '85, Associate Vice President for College Advancement