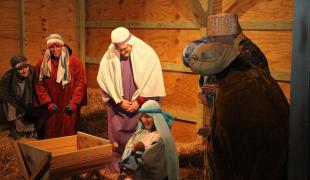 Celebrate the 2013 holidays at Hastings College on December 5. The evening kicks off as a live nativity on the Circle Drive opens at 6 p.m. This display, featuring live animals and Hastings College students, will continue through 9 p.m.
At 7:10 p.m. in French Memorial Chapel (800 N. Turner Ave.), preludes to "A Festival of Nine Lessons and Carols" will begin as senior piano performance major Zachary Peterson from Omaha, Neb., plays the organ and the Hastings College Bell Choir performs. Guests are asked to enter the chapel silently during these performances.
"A Festival of Nine Lessons and Carols," featuring the Hastings College Choir, will begin promptly at 7:30 p.m.
The framework of "A Festival of Nine Lessons and Carols" dates back to 1880 when Anglican Bishop E.W. Benson composed the original service for Christmas Eve. In the century which followed, the program has been adapted several times. The service has been a part of Hastings College's holiday traditions since the 1980s when then-President Thomas Reeves introduced it to the Hastings community.
From 6:30 to 9 p.m. in Hazelrigg Student Union on (705 E. 9th St.) will be photos with Santa and Bosco the Bronco and special shopping hours at the Bronco Bookstore. 
Also, Crimson Connection, the Hastings College booster club, will provide free Christmas cookies and wassail.  
Other holiday-themed activities on campus or including many members of the Hastings College community include the following:
"A Winnie-the-Pooh Christmas Tail"
Alpha Psi Omega, the national theatre honorary, presents a holiday production the whole family will enjoy! Join Winnie-the-Pooh, Piglet and the many other characters you love as they spend Christmas Eve helping Eeyore find his missing tail. Along the way, learn about caring, sharing and the importance of friends. All performances (below) are at Scott Studio Theatre (806 N. Turner Ave.)
Friday, December 6 at 7:30 p.m.
Saturday, December 7 at 2 p.m. and 7:30 p.m.
Sunday, December 8 at 2 p.m.
Tickets are $5. Reserve your tickets at tickets@hastings.edu or 402.461.7380 after December 2.         
South Central Nebraska Children's Chorale Concert
Saturday, December 7 at 7:30 p.m.
French Memorial Chapel (800 N. Turner Ave.)
Hastings Symphony Orchestra's A Suzuki Christmas with Mischa Johnson
Sunday, December 8 at 3 p.m.
Masonic Center Auditorium (411 N. Hastings Ave.)
Tickets: $15 for adults and $5 for students
Founded in 1882, Hastings College is a private, four-year liberal arts institution located in Hastings, Nebraska, that focuses on student academic and extracurricular achievement. With 64 majors in 32 areas of study and 12 pre-professional programs, Hastings College has been named among "America's Best National Liberal Arts Colleges" by U.S. News & World Report, a "Best in the Midwest" by The Princeton Review and a "Best Buy in College Education" by Barron's. Visit Hastings.edu for more.