Nine local and visiting writers will read from their latest work at The Lark in downtown Hastings on Saturday, April 13, as part of the 2019 Plainsongs Celebration of Poetry and Prose.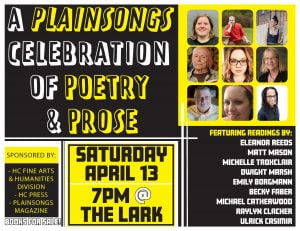 The event, which is free and open to the public, is scheduled to begin at 7:00 p.m., with doors opening at 6:30 p.m. A variety of books will be for sale after the readings, courtesy of the Hastings College chapter of Sigma Tau Delta, the English honorary.
Readers include Matt Mason, who was recently named the Nebraska state poet, and Eleanor Reeds, an assistant professor of English at Hastings College. Also reading will be Ulrick Casimir, Michelle Troxclair, Emily Borgmann, Raylyn Clacher, Dwight Marsh, Becky Faber and Michael Catherwood. All have recently been published in Plainsongs magazine.
Plainsongs, now in its 39th year of continuous publication, features poetry and occasional short prose pieces submitted by writers from around the world.
Eric Tucker, a writing instructor in the Department of Languages and Literatures at Hastings College, is editor of Plainsongs. Associate editors are Eleanor Reeds, Becky Faber, Michael Catherwood and Ali Beheler, an assistant professor of philosophy at Hastings College. The magazine is published by Hastings College Press, which is helmed by Patricia Oman, associate professor of English.
The Plainsongs Celebration of Poetry and Prose is sponsored by the Hastings College Arts & Humanities Division, the Hastings College Department of Languages & Literatures, Hastings College Press and Sigma Tau Delta.
Hastings College is a private, four-year institution located in Hastings, Nebraska, that focuses on student academic and extracurricular achievement. Hastings College has been named among "Great Schools, Great Prices" by U.S. News & World Report and a "Best in the Midwest" by The Princeton Review. For more, go to hastings.edu.