Brett L. Erickson, associate professor of Visual Arts at Hastings College, will address the nature of photography and show his photographs of the American West for the fall 2017 Artist Lecture Series Invited Faculty Lecture.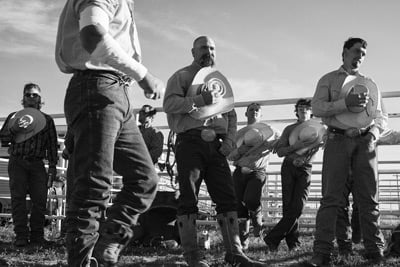 His address, "Cowboys, Legends, and Storage Units: Photographing the New American West," explores the evolving nature of photography, his own photographic processes, and the resulting images of the western United States. The lecture is scheduled for Friday, October 20 at 10 a.m. in French Memorial Chapel (800 N. Turner Ave.) and is free and open to the public.   
Erickson's presentation will be one of two Invited Faculty Lectures to take place in the 2017-18 academic year. Each spring, Hastings College students select two faculty members to present campus-wide lectures on the professors' topics of choice during the next academic year. To be selected is considered the highest honor awarded to faculty.  
Dr. Antje Anderson, professor of Languages and Literature, was also selected by students, and will deliver a lecture in spring 2018.
Bio for Brett Erickson
A photographer whose fine art and documentary images have won acclaim internationally, Brett Erickson's work has shown in locations such as London, England; Belfast, Ireland; Laguna Beach, California; Kamloops, British Columbia; Santa Fe, New Mexico; SoHo, New York City; and Berlin, Germany.
As a professional journalist and documentary photographer, his work has appeared at NationalGeographic.com, National Public Radio, American Public Media and Nebraska Educational Telecommunications; he formerly served as the freelance Central Nebraska Bureau Chief for NET Radio (Nebraska Public Radio). His book PlainSky, Nebraskans, with National Geographic's Sam Abell, was published in 2013.
A sought-after workshop instructor, he teaches yearly courses at the world's foremost photographic educational center, the Santa Fe Photographic Workshops. He serves as associate professor of Visual Arts at Hastings College, where he has taught design, photography and online design and development since 2003.
Erickson is sponsored by Hahnemühle, one of the world's oldest and most prestigious art paper companies, and he is a member of both the Royal Photographic Society and the Society for Photographic Education.
He earned his Bachelor of Arts in Communication Arts from Hastings College in 1995, a Master of Arts in Teaching with an emphasis in English Language Arts from Hastings College in 1999, and a Master of Arts in Journalism and Mass Communications from the University of Nebraska–Lincoln in 2009. He is currently completing his PhD in Education at the University of Nebraska-Lincoln.
 
Hastings College is a private, four-year institution located in Hastings, Nebraska, that focuses on student academic and extracurricular achievement. With more than 60 majors and 15 pre-professional programs, Hastings College has been named among "Great Schools, Great Prices" by U.S. News & World Report and a "Best in the Midwest" by The Princeton Review. For more, go to hastings.edu.